IVM Podcasts Competitive Intelligence|Ad Analysis by SocialPeta
Competitive intelligence is the first step in our marketing intelligence work and one of the most important parts. Only when we understand the details of our competitors can we formulate a correct and effective marketing strategy.
In this report, SocialPeta analyzes the IVM Podcasts's ad analysis from multiple aspects and helps you see the competitive intelligence of top grossing apps IVM Podcasts.
Now, I'll tell you how to gain a competitive advantage by SocialPeta.
1. Basic Information of IVM Podcasts
Network : Twitter,Facebook,Audience Network
Publisher : Facebook,Instagram
Total creative ads during the time period : 29
2. IVM Podcasts's Competitive Intelligence
what is competitive intelligence? Competitive intelligence is the most important part of our marketing. Only when we fully understand the overall situation of our competitors and the market can we make accurate judgments.
Before advertising, we usually use various tools, such as SocialPeta, to check the details of competitors' ads. In this report, we will analyze the recent advertising performance of advertiser IVM Podcasts in detail to understand its advertising strategy.
Trend of Category
There are many types of creatives. We mainly analyze the trend of the ad creative category of IVM Podcasts in the recent period. As of 2021-05-07, among the IVM Podcasts's ad creative, the Html category's proportion is 0.0%, Video category's proportion is 0.0%, Playable Ads category's proportion is 0.0%, Image category's proportion is 100.0%, Carousel category's proportion is 0.0%.
Ad Network Analysis
The network that SocialPeta monitors can cover almost all mainstream channels in the world. Understanding the competitor's advertising channels is the first step in marketing work. According to the analysis of SocialPeta, we can see that in the date of 2021-05-07, IVM Podcasts's the proportion of networks impressions are placed like this:
Facebook's proportion is 27.79%,
Messenger's proportion is 27.79%,
Audience Network's proportion is 22.21%,
Instagram's proportion is 22.21%,
In the date of 2021-05-07, IVM Podcasts's network with the most ads is Facebook and its proportion is 28.57%.
3. Top 3 Ad Creative Analysis of IVM Podcasts
This is the detailed information of the top three ad creatives with the best performance among all ad creatives of IVM Podcasts. We can see some advertising trends.
Top 1 Ad Creative of IVM Podcasts
Headline :Ep. 34: हमारी राजनीति आख़िर ऐसी क्यों है?
Text :2019 मतदान क़रीब है और राजनीति की हवा किस दिशा में बह रही है, इस पर हर भारतीय का अपना एक मत तो ज़रूर है| अक़्सर लोग कहते हैं क....
Top 2 Ad Creative of IVM Podcasts
Text :Last year, @Kianayema sat down with @zeusisdead to unpack the Syrian Civil War and what lies ahead. With the conflict escalating this October, all tht they feared and more is coming true. Learn more about the most violent ongoing conflict in the world. https://t.co/d5tRZjmkjC https://t.co/livGGwv6R1
Top 3 Ad Creative of IVM Podcasts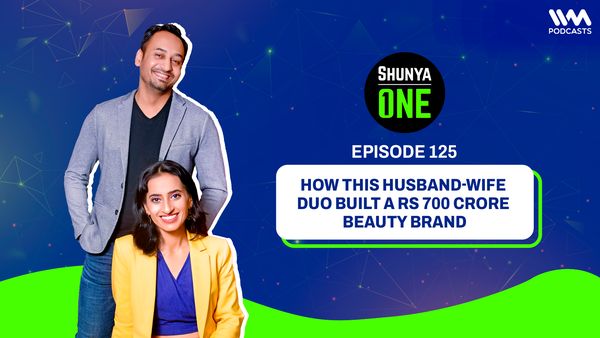 Headline :How This Husband-Wife Duo Built A Rs.700 Crore Brand
Text :From being batchmates at IIM Ahmedabad to business partners at building one of the biggest beauty brands to now happily married life-partners, it has been an extraordinary journey for this husband-wife duo.

Their company is valued at over Rs. 700 crore and has given employment to over 1500 people, yet they say that they are just getting started.

8 years of perseverance, multiple rejections, and failures but a never-die attitude of fighting together in every situation no matter what is finally reaping fruits for the Co-Founders and Chiefs of the beauty brand SUGAR Cosmetics, Kaushik and Vineeta.

Learn about their inspiring journey, the dos and don'ts of building a company, the future of the beauty market in India, the impact of the internet in scaling a business, and also what keeps them going in tough times on this week's episode of ShunyaOne.
Basic Info of Top 3 Ad Creative
| | | | |
| --- | --- | --- | --- |
| | 1st | 2nd | 3rd |
| Duration | 309 | 7 | 7 |
| Popularity | 999 | 64 | 64 |
| Dimensions | 1500 x 845 | 1000 x 562 | 600 x 338 |
| Creative Type | Image | Image | Image |
| Network | Facebook | Twitter | Facebook |
| Related Ads | 1 | 1 | 1 |
| Countries | Fiji,India | Canada,United States,Australia,United Kingdom | United Kingdom,Canada,United States,Australia |
| Language | Hindi | English | English |
Through the above analysis, we can see that the most effective channel for IVM Podcasts in recent advertising is Facebook, and the main creative type is Image.
In conclusion: The above is a free IVM Podcasts's competitive intelligence analysis report. To do a good job of advertising, long-term accumulation is required. we need to constantly check the latest trends and competitive intelligence data. With the use of competitive intelligence tools like SocialPeta, Guangdada(Chinese version of SocialPeta), we can improve our ROI, and make competitor's fans ours. I hope that this ad creative analysis report will allow you to gain more.
If you want to check the relevant intelligence analysis of other apps similar to IVM Podcasts, you can click the app name below to view related reports, or you can find more info in ASOTools.