Mobile Advertising 101: Trends & Challenges in the Vietnam Market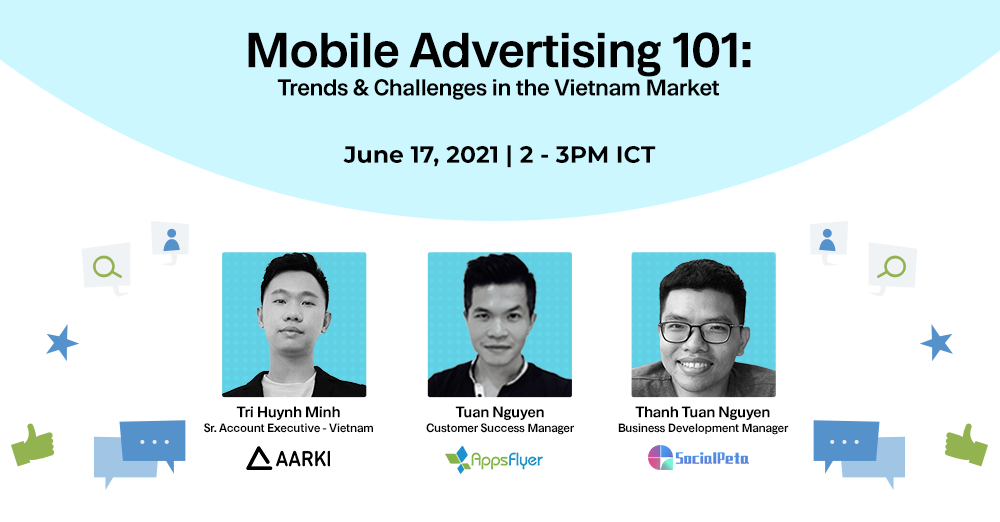 Vietnam ranks 15th in terms of smartphone usage globally, with 50 million users connecting via mobile phones for 4 hours a day. The Vietnamese market has the potential to become one of the top markets for mobile phones. for mobile advertising in Southeast Asia.
What can we do to stay ahead of the trends and developments of mobile advertising in Vietnam? With the goal to educate the growing market on the basic strategies of app marketing, on June 17th, Socialpeta partnered with Aarki for an informative webinar by analyzing the creative performance and programmatic advertising. AppsFlyer also joined the webinar to explain the recent changes in iOS app advertising and their solutions to these new challenges.
Our expert speakers wrapped up the webinar with an open roundtable discussion. They talked about the changing industry and about continuously driving growth, even with the current challenges in the market.
Missed the webinar? just click the above button to catch up with the video where we cover the following topics:
Media buying analysis of mobile apps in the SEA region
How to achieve app growth with mobile programmatic advertising
iOS14.5: Optimizing Measurement with SKAdNetwork & beyond