WhatRunsWhere VS SocialPeta: Which Is The More Powerful Ad Intelligence Tool?
With the development of the Internet, marketing methods have become more developed. Digital marketing is now the main way of attracting traffic. It promotes companies to users online through electronic devices such as mobile phones and computers. In digital marketing, advertising is the main method of corporate network promotion, and advertising-type digital marketing needs to be continuously tested to find the best campaigns to get more traffic.
Monitoring competitors is a great way to reduce testing and quickly find successful campaigns. Companies only need to use spy tools to analyze and monitor competitors' best ads. Let the spy tool tell us what kind of advertising competitors rely on to succeed.
Obtaining competitor advertising intelligence can help companies reduce the initial investment in advertising and no longer waste time and money on wrong advertising. The two best ad intelligence tools currently on the market are WhatRunsWhere and SocialPeta. Let's compare WhatRunsWhere and SocialPeta which is a more powerful ad intelligence tool?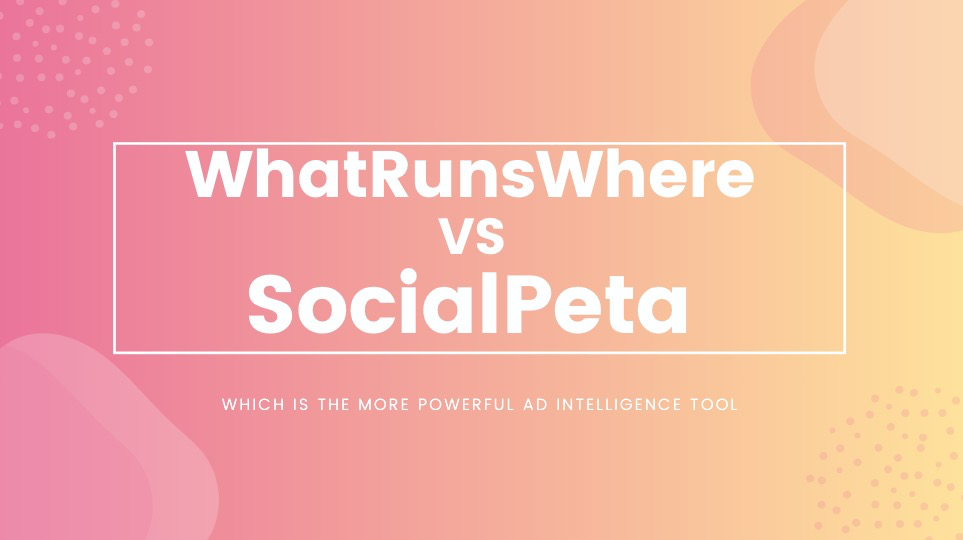 WhatRunsWhere
WhatRunsWhere is located in California, USA. It is a professional intelligence tool for espionage and competitor advertising. It is dedicated to leading technological innovation to stimulate marketing intelligence and empower people to make smarter advertising decisions.
WhatRunsWhere is a marketing espionage tool that allows you to discover: where your competitors are advertising and what kind of advertising they are using; which advertisers and advertisements are placed on specific domains. And which advertisers and ads are targeted for specific keywords.
WhatRunsWhere provides valuable competitive insights and improves advertising performance by tracking competitors' ads. WhatRunsWhere is also used to fully access the complete pictures of competitors' ads, use advertising intelligence to understand which competitors' ads perform best, and create more profitable campaigns.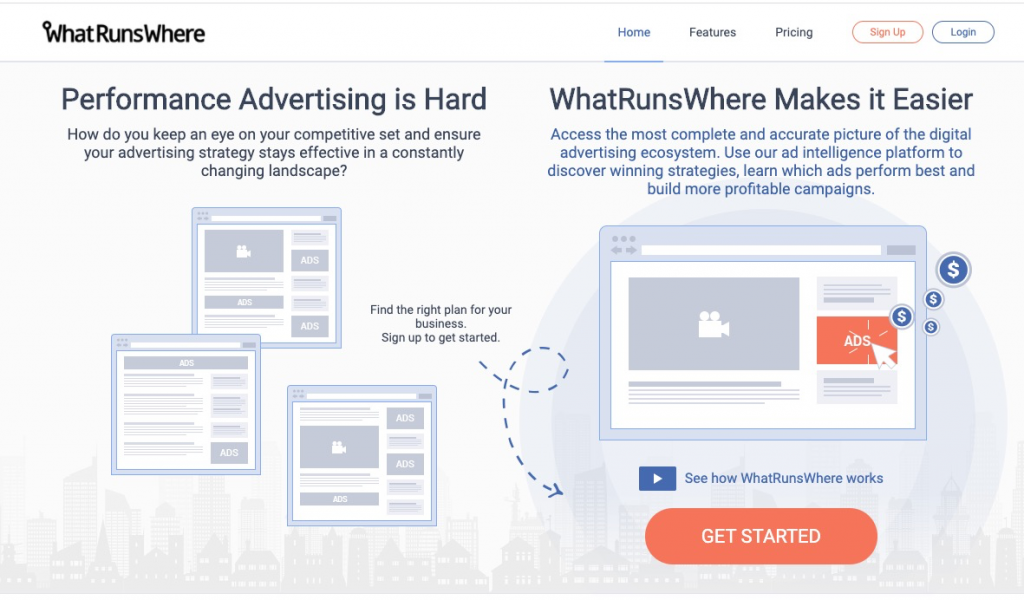 SocialPeta
SocialPeta is an advertising analysis and intelligence tool created in 2015. SocialPeta has a huge database and powerful search function, as well as the data monitoring capabilities of the 73 most used ad network platforms in the world. SocialPeta helps companies make better decisions from seven aspects: advertising, market, cost, application, audience, e-commerce, and brand intelligence. SocialPeta aims to help medium and large companies develop their business better in all marketing decisions.
SocialPeta started with ad intelligence, and then expanded its business direction. It used to focus on the game advertising market segmentation field, and now it has developed from a game advertising expert to an e-commerce advertising intelligence tool. In addition to being the #1 third-party game advertising analysis platform, SocialPeta is now a professional e-commerce advertising analysis and intelligence tool.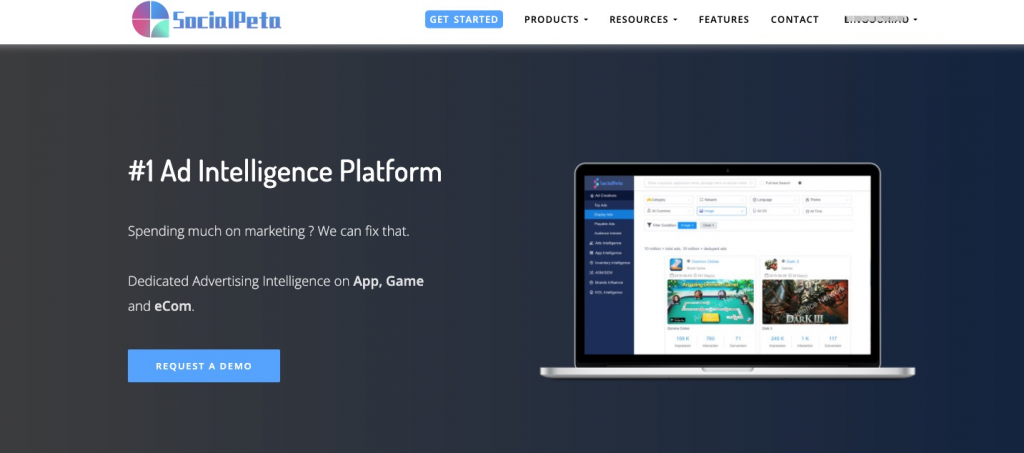 Comparison of ad data dimensions:
The power behind all advertising intelligence platforms comes from the ability to capture and process data. By comparing the differences in the dimensions of advertising data, we can have a preliminary understanding of intelligence tools.
WhatRunsWhere:
WhatRunsWhere currently supports 7 countries, namely the United States, the United Kingdom, Canada, Australia, Brazil, France, and Germany.
Ad publisher: The Ad publisher monitored by WhatRunsWhere includes 120,000 publishers for web and mobile devices, and 95,000 publishers for Android applications.

SocialPeta
SocialPeta supports 45 countries, including most countries in Europe, South America, Southeast Asia, CIS, Japan Korea, North America, the Middle East, and Africa.
SocialPeta can monitor 73 major online platforms in the world, including a world-class social platform like Facebook, as well as other ad channels commonly used in various countries.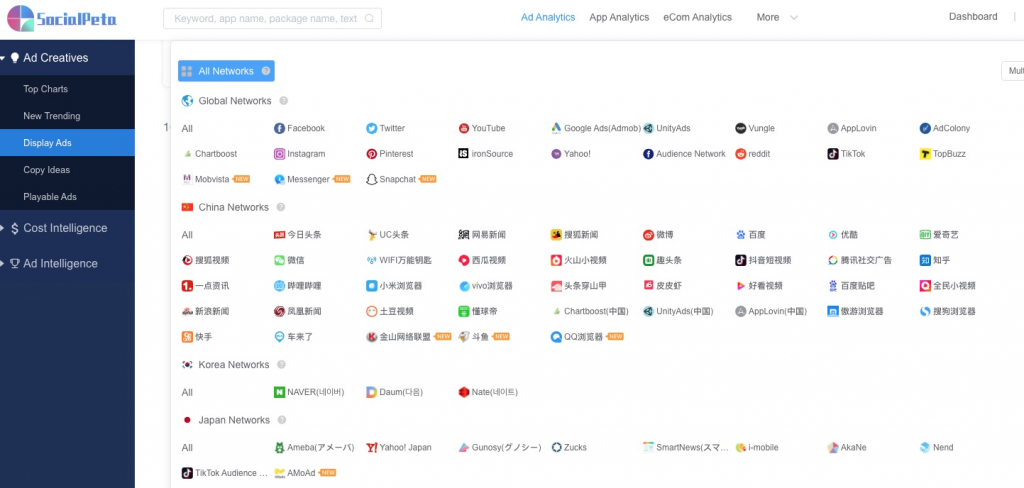 The total number of ads that SocialPeta currently crawls has exceeded 1 billion. In addition to analyzing individual ads, SocialPeta also analyzed 3 million advertisers and Ad Publishers. Click on the name of an advertiser, you can also see a detailed advertising analysis report. By subscribing to the competitors you want to monitor, you can also receive regular advertising intelligence about competitors.

Data dimension analysis and comparison:
From the comparison of data dimensions, SocialPeta can grab more advertising data and quickly update the latest data. We all know that data is the core of intelligence tools. The data of WhatRunsWhere has limitations. It only has good data capture and processing capabilities for a few developed countries. And SocialPeta's data capture range is wider, and it can also be used to analyze and summarize deeper data and provide more in-depth market reports.
Comparison of main functions:
WhatRunsWhere:
On WhatRunsWhere you can search for any advertiser, website, network, or category. There is an option to filter the results of affiliate marketing activities. You can also track specific advertisers, sites, and network activities.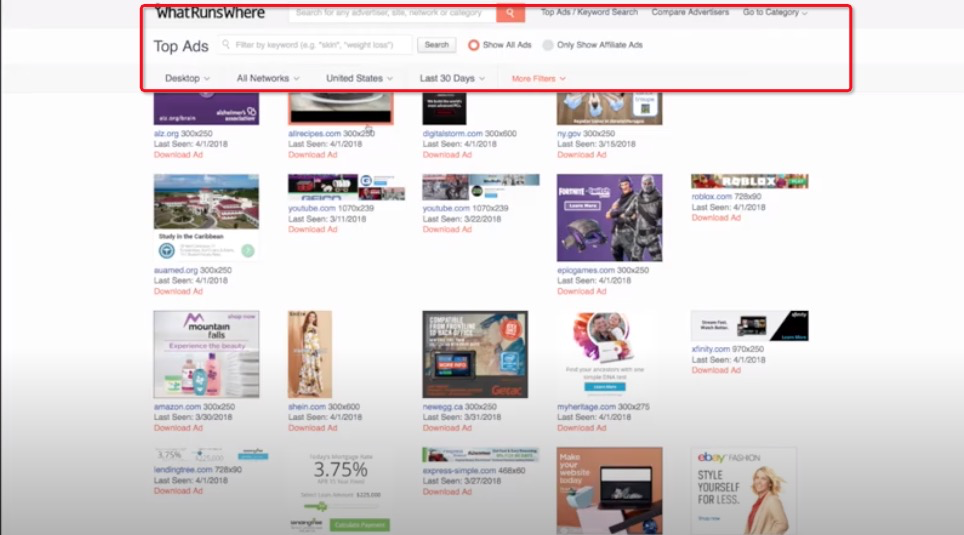 1. Accurate advertising creative search
WhatRunsWhere provides you with comprehensive advertising intelligence and unparalleled insight to build a profitable digital strategy. Here, you can search using filters such as "filter by keyword", "filter by network", "desktop", "all ad sizes" and many other filters.
5 advanced filtering methods:
Networks
Desktop
Country
Time
More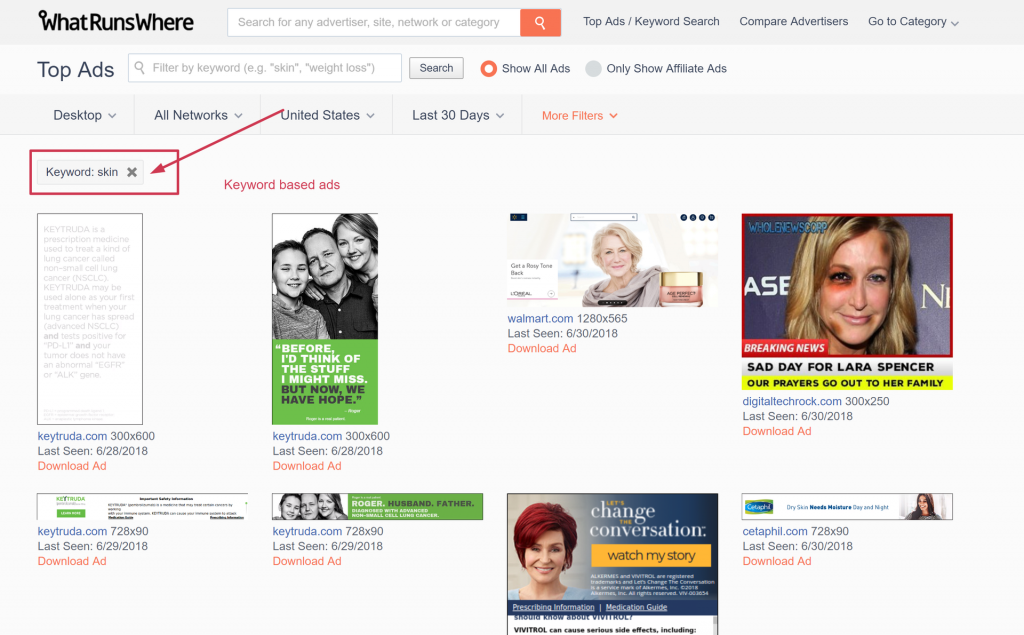 2. Ad analysis:
After searching for a competitor's ad, click on any creative, and we can see a detailed analysis of the ad. First of all, we can see the specific style of the ad material, and if necessary, we can download the ad.
Then, we can see the country where the advertisement is placed, the landing page link and the duration of the landing page corresponding to the advertisement, the specific traffic source of the advertisement, and the number and time of advertisement exposures from different sources.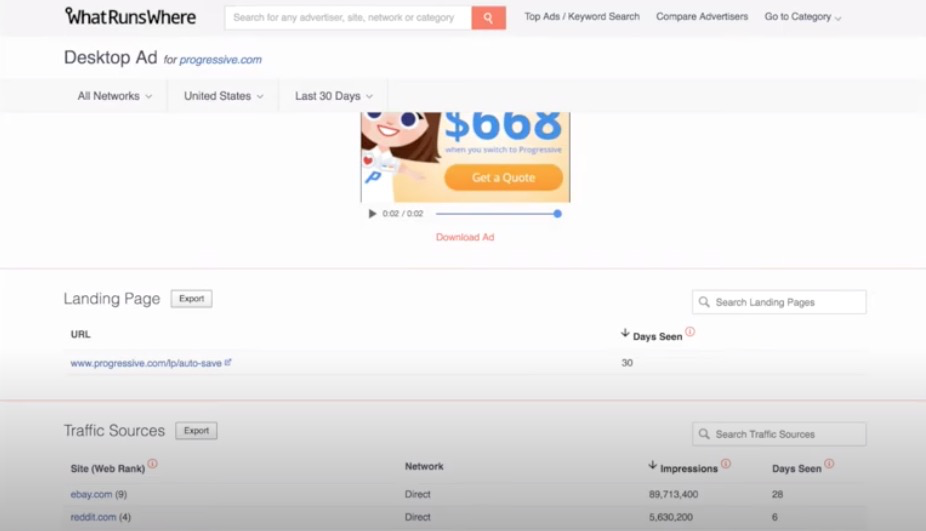 3. Affiliate ad research:
WhatRunsWhere selects Affiliate ad separately for competitor research. When we search for any creative, as long as we select "Only Show Affiliate Ads", we can see the current Affiliate Ads of our competitors.It can also see detailed advertising analysis.

4. Discover the successful advertising strategies of competitors
When researching competitor advertising, WhatRunsWhere helps us from the following five aspects:
(1)Which channels do you find competitors advertising on?
(2)Find out which ads your competitors are running?
(3)Which are the most popular ads in the country?
(4)What kind of ads does the competitor place for which keywords?
(5)Tracking competitors' ads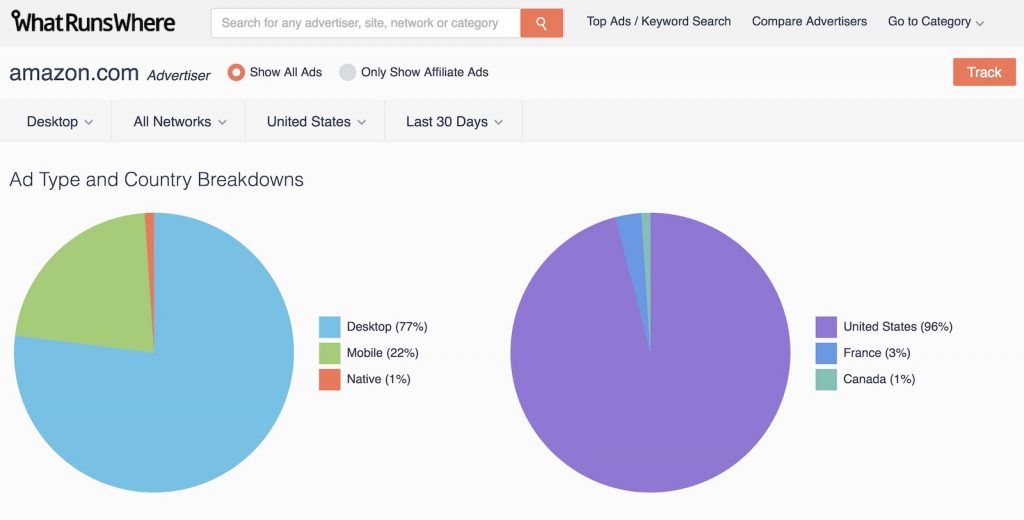 With this feature, you can search for specific competitor's website domain names to find their popular campaigns.
You may want to know which platform your competitors mainly advertise on, as well as the countries where they advertise and what kind of advertising creative they are using.
Or, you may be preparing to enter a new market and want to research where the major players advertise and what their message is. Search for it.
The keyword function is used to research advertisements on specific topics. This feature is useful if you want to know the advertisers that are active in a specific market. This is also a great way to get ideas about banner ad design and messaging.
Sometimes in certain situations, you want to learn as much as possible about a particular competitor or advertiser.
In these cases, you can use WhatRunsWhere domain tracking to add the advertiser's URL to the tracking list. This will provide you with the latest intelligence about the latest activities of the advertiser.
SocialPeta:
SocialPeta's advertising panel is mainly composed of three parts, namely advertising creative, cost intelligence, and ad intelligence. SocialPeta's analysis of advertising is multi-dimensional. It not only allows you to search for advertisements in large quantities by entering any keywords, but also supports analysis of advertisements from multiple perspectives such as channels, audiences, creative inspirations, and audiences. Apply now to register for SocialPeta, and you can get a 3-day free trial.
1. Advertising creative analysis:
Advertising creative consists of 5 parts:
Top Charts
New Trending
Display Ads
Copy Ideas
Playable Ads
In the advertising creative part, SocialPeta can mainly provide advertisers with excellent advertising lists, the latest trends in advertising creative changes, search for any creative, advertising copywriting research, and game Playable Ads. Among them, we focus on how to find competitors' ads.
Click on the "Display Ads" form on the left of SocialPeta, and ad search and filtering options will appear on the right interface. SocialPeta has collected all the advertising ideas of 73 advertising channels in 45 countries, so that you no longer worry about creative inspiration. And SocialPeta has a complete way to find ads: it supports 3 kinds of keyword searches and 10 kinds of advanced filtering options. You only need to enter any keywords, and filter by country, ad format, and other criteria, you can get the ad creatives you need.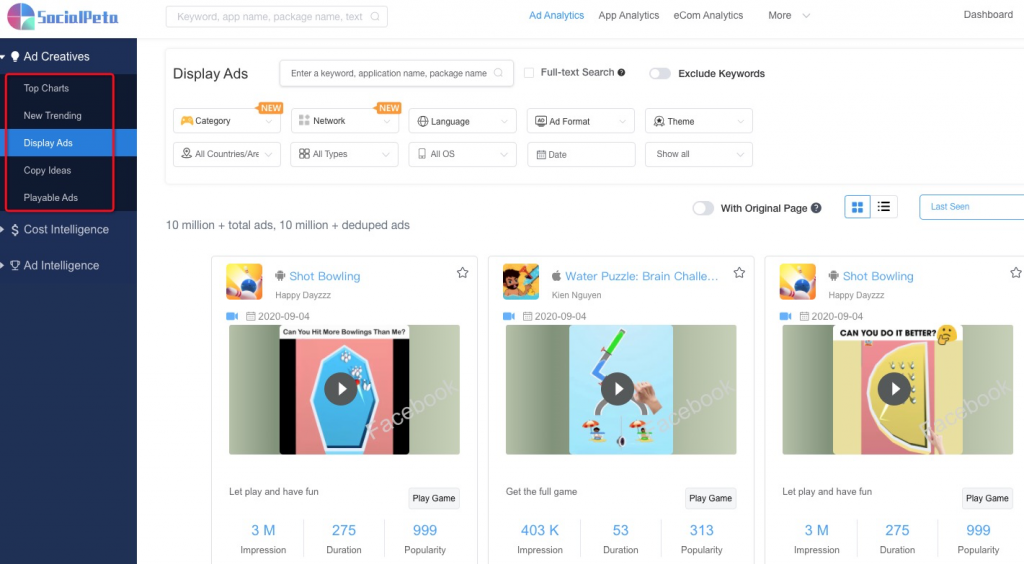 Click on any ad, you can also see its detailed analysis: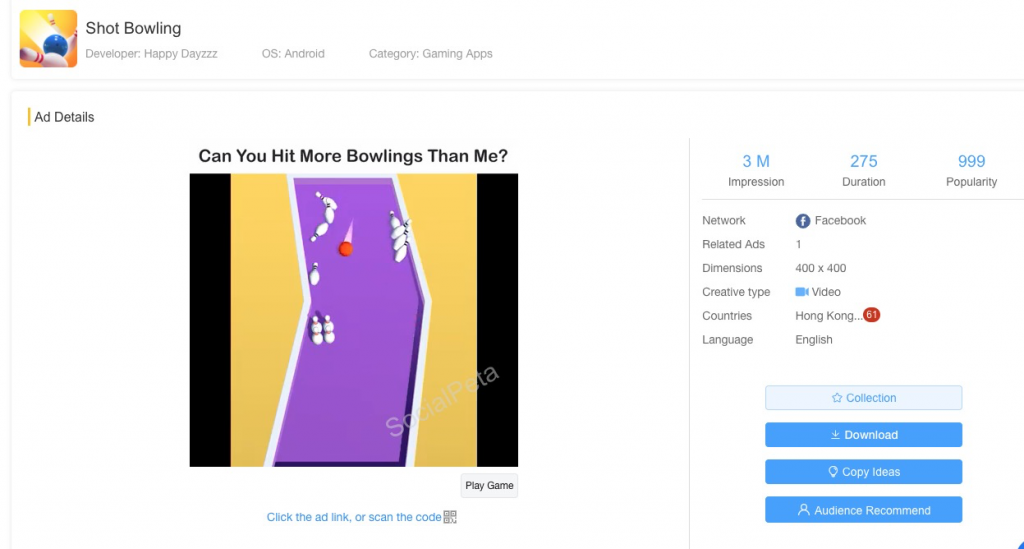 2. Ad cost analysis:
There are three ways to view changes in advertising costs:
Audience
CPC
CPA
Advertising cost is the core data of most advertising, and it is also an unpublished secret. But SocialPeta analyzed the data of millions of accounts that are currently ad, and drew a curve of advertising costs.
Currently, the only advertising cost research channels supported by SocialPeta are Facebook, Instagram, Audience Network, and Message. It shows the highest and lowest cost of CTR, CPC, and CPA in the last 180 days, and the trend of change.
Then it also shows the differences in advertising bids between different countries and different groups of people, allowing corporate advertising to acquire potential users at the best price.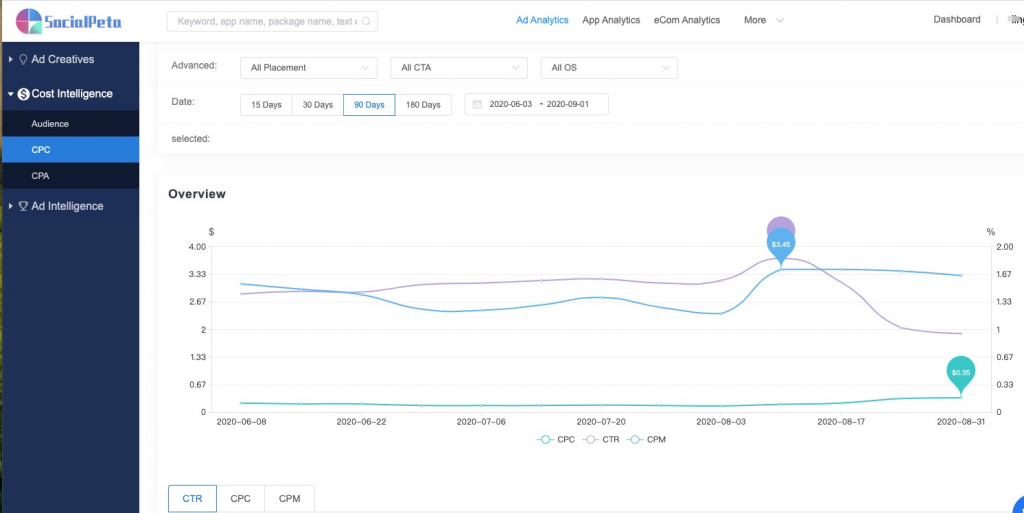 3. Ad intelligence analysis:
Ad intelligence consists of 5 parts:
Top Charts: List the best advertisers
New Trending: Advertisers with a recent development momentum
Advertiser Analysis: analyze the performance of advertisers
Ad Publisher Analysis: advertising within the App
Ad Platform Analytics: Research on Advertising Platform
Below we introduce in detail the services provided by each function:
Enter the competitor's App or Web name, we can directly analyze the competitor's advertising performance. For example, our competitor of Xianze is the puma. The following is its advertising performance: Puma's advertising lasts for a long time, from 2014-09-15 until now. It has placed ads on 24 channels in total, and it has placed 24,038 ads in total. In addition to basic ad intelligence, SocialPeta also has a detailed analysis of its advertising audience, advertising creativity, advertising copywriting, etc.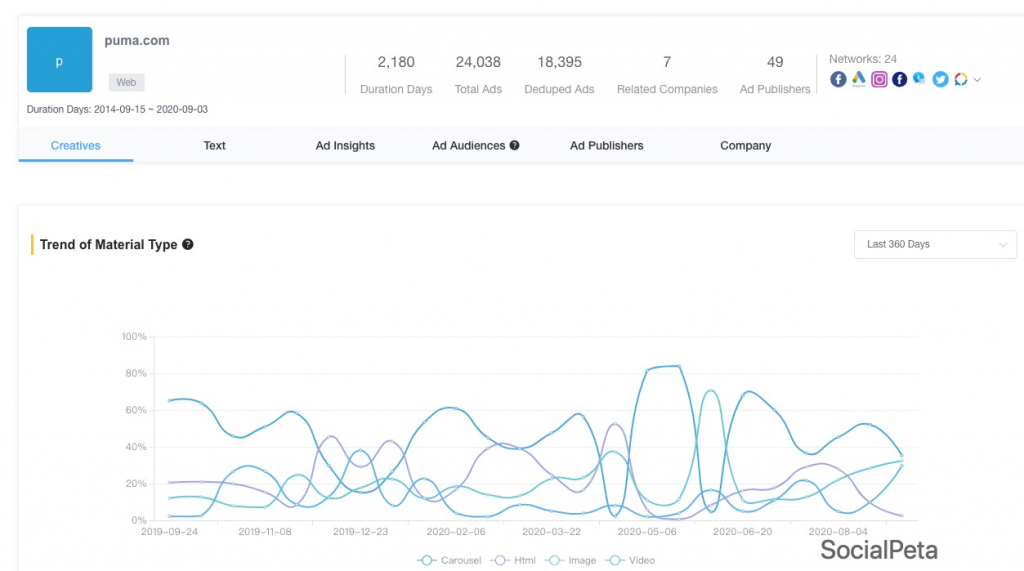 If a company wants to start a business on a new advertising platform, but is not sure whether this platform is suitable, SocialPeta's advertising platform analysis is for you. SocialPeta analyzes the advertising country, advertising category, and the number of ad exposures that each advertising platform only needs, and also lists the best-performing advertisers on each platform.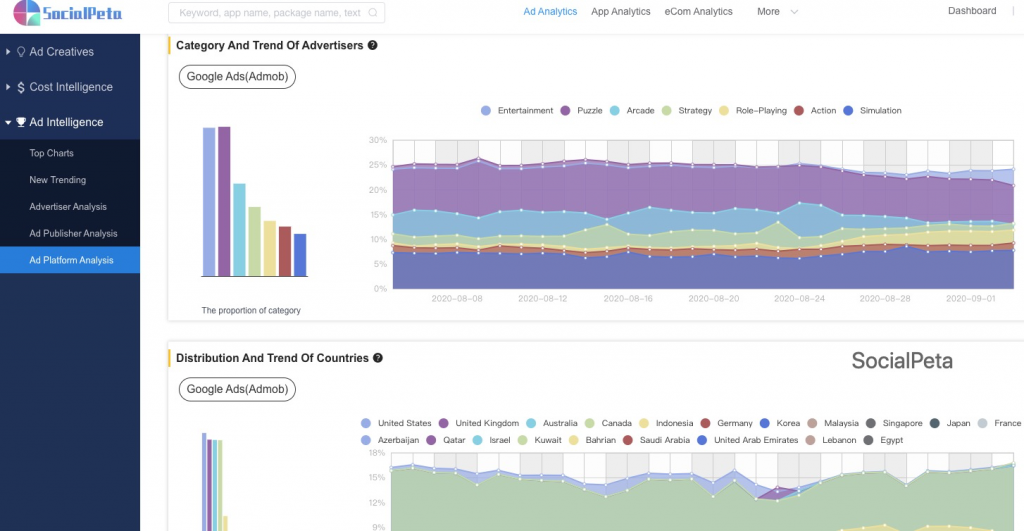 Ad Publisher Analysis and Top Charts are also very powerful. I will not introduce them one by one. If necessary, you can sign up to try SocialPeta.
Analysis and comparison of main functions: SocialPeta intelligence data is more comprehensive
Obviously, the main functions of SocialPeta are stronger and more comprehensive. Because the main function of WhatRunsWhere is still limited to a separate analysis of a competitor's advertising data and performance. In addition to providing advertisers with powerful competitor advertising analysis, SocialPeta can also be used to study the market prospects of the entire industry and operating channels.
WhatRunsWhere provides competitor's advertising materials and successful strategy learning for advertising. In addition to being an advertising intelligence tool for competitor material and channel research, SocialPeta can also be used to explore the changing trends of advertising costs across the industry, expand more potential audiences, and analyze the effects of new advertising channels.
Price comparison:
WhatRunsWhere: There are 3 paid plans
US$299/month
USD 399/month
Enterprise quotation, need to contact
SocialPeta: SocialPeta mainly serves medium and large customers. Its advertising service quotation starts at $5,000 per year. For specific quotations, please contact rocks@vip.socialpeta.com.
Which one of WhatRunsWhere and SocialPeta is a more powerful ad intelligence tool?
From the above comparative analysis, we can see that SocialPeta is more powerful in terms of data capture and advertising intelligence analysis, and its quotation is not much different from WhatRunsWhere. In addition to allowing companies to have a clearer understanding of competitors, SocialPeta is also a tool used to open up new markets, make decisions and better develop the company.