Global Mobile Apps in July: Female-friendly becomes the key to revenue growth
With the aid of its App Intelligence and other modules, SocialPeta sorted out the top 20 global mobile apps (non-game) by revenue, download, and advertising in July 2022, hoping to be of assistance to more people in the mobile app industry who try to understand the changing trends of global mobile market.
The overall performance of global apps in July:
[Bumble] had a revenue growth of over 32% MoM. Being female-friendly is the key to its revenue growth
The non-mainstream social app [Be Real] was a surprise on the downloads chart;
Dubai's health code app [COVID-19] flooded the market with ad creatives.
Top 20 by Revenue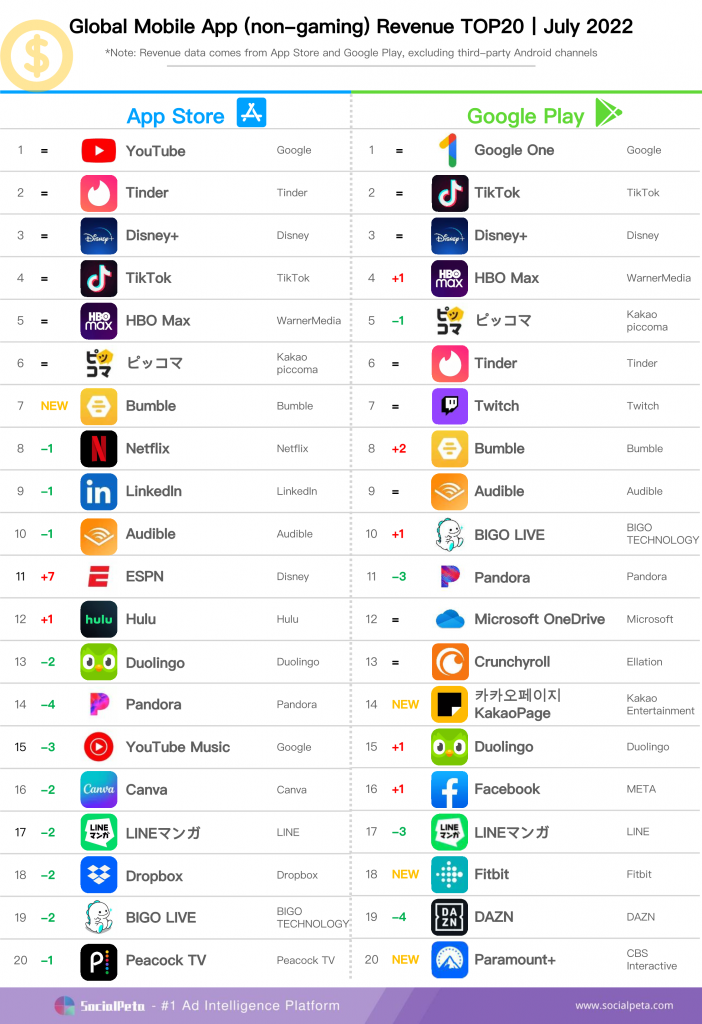 As the only new app on the July revenue chart on the App Store, [Bumble], an app mainly offering service of "female-focused dating", had a revenue growth of over 32.5% MoM on both the App Store and Google Play in July. [Bumble]'s 2022 Interim Financial Report shows that the company recorded a YoY revenue growth of 20.93%. Seen from its 10% growth in downloads in July, the app's revenue growth was mainly driven by its rapidly increased number of paying users. More importantly, [Bumble]'s ratio of female users to male users was 30% higher than the industry average level, which was a great appeal to both female and male users.
There were 3 new apps on the Google Play revenue chart, including the comic reading app [카카오페이지 KakaoPage] that had the greatest revenue growth of 131% MoM in July. However, the app reported a downward trend in both its quarterly downloads and monthly downloads. Obviously, its revenue growth in July was contributed by its existing users.
Overall, video, reading, and music apps were more outstanding in revenue on both the App Store and Google Play, especially long-form video apps with revenue growth of 5%-26% MoM. That was almost the same as on the June chart. So, it has been a global trend that people are willing to pay for high-quality content.
Top 20 by download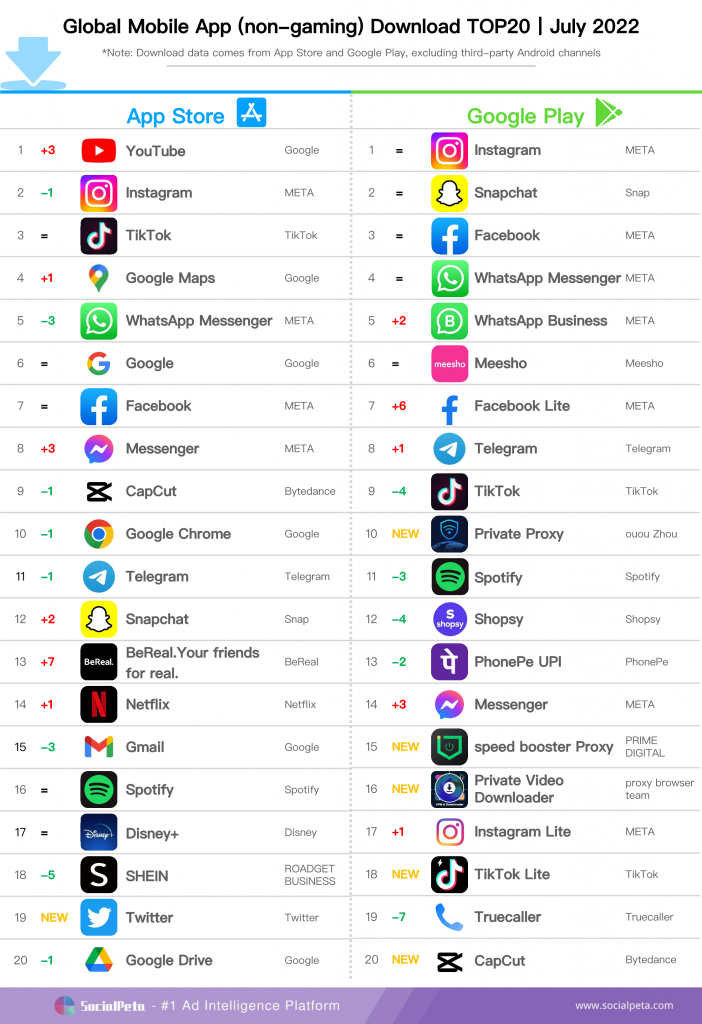 The non-mainstream social app [Be Real] had an outstanding growth of 52.4% MoM in downloads on the App Store. [Be Real]'s main feature is that it opposes photo filters and anxiety by allowing its users to only share a photo of themselves and their immediate surroundings given a randomly selected two-minute window every day. And users must post their own photos before they can view other users' photos. The app makes its users feel tense and real, which is very different than other apps. And [Be Real]'s installation only takes 55MB, which is attractively light and user-friendly compared to the about 300MB installation of most mainstream social apps.
Lite versions of popular apps on Google Play received outstanding downloads. [TikTok Lite]'s growth of downloads was nearly 90% MoM, [Facebook Lite]'s downloads grew by over 65%, and [Instagram Lite]'s growth of downloads was nearly 45%.
The information safety app [Private Proxy] was the most downloaded app among all the new apps on the Google Play chart. Thanks to its proactive media buying strategies, the app's downloads surged to an increase of 185% MoM. It had over 24,000 deduplicated creatives on the App Store and Google Play combined in June, and it continued to release more creatives in July to have as many as 28,000 deduplicated creatives in total, up 14% MoM.
Top 20 by advertising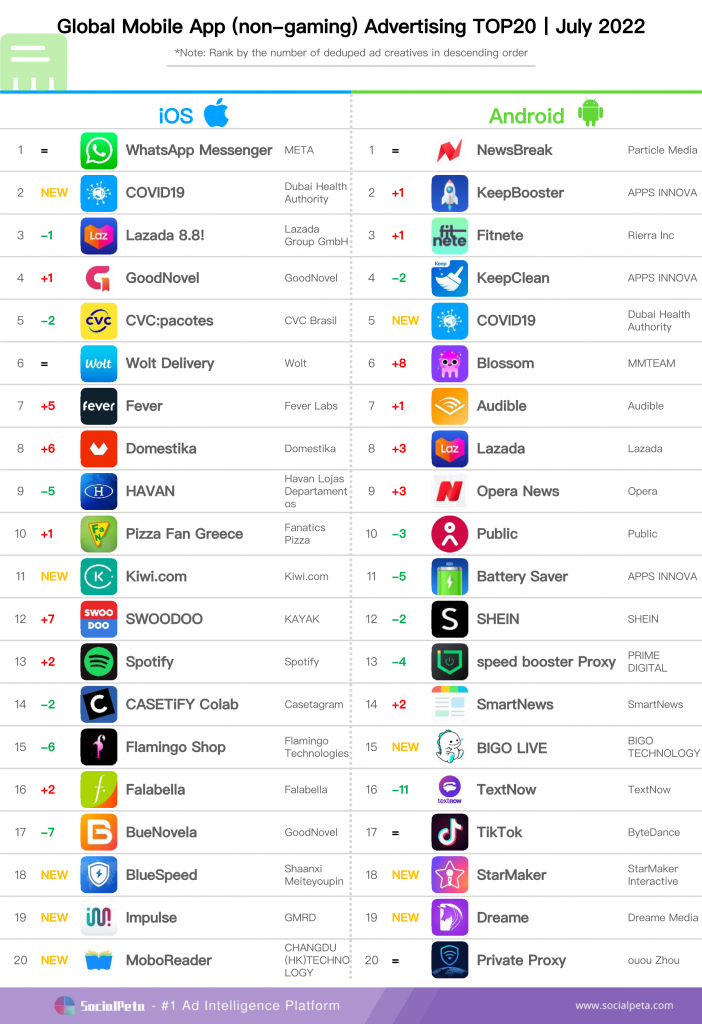 The instant messaging app [WhatsApp Messenger] continued its proactive media buying strategy in June on iOS and topped the advertising chart with 63,000 deduplicated creatives. [COVID-19] was a new app ranked No.2 on the chart, and it was also ranked No.5 on the Android chart. [COVID-19] is a health code app launched by the Dubai Health Authority. The Dubai Media Office said on Twitter that the Dubai airports expected 5 million travelers each month during this summer. It was one of the important anti-epidemic measures for travel countries to put more effort into advertising health code apps.
Most travel-related apps released more creatives in July. The local events and ticket booking app [Fever] recorded a growth of 63% MoM in creatives, and the travel app [SWOODOO] reported a growth of 73% MoM in creatives.
[NewsBreak] continued to top the Android chart with its creatives. As a news app, [NewsBreak] had as many as 1.1 million deduplicated creatives, and its creatives were on a steady growth path in the recent 90 days. The Indian social app [Blossom] had the most rapid growth in creatives, with an increase of 42% in July.
The live-streaming app [Bigo Live], music social app [StarMaker], and reading app [Dreame] were all new on the chart. Overall, social, entertaining, and reading apps put more effort into advertising to attract new users in July.