PowerAdSpy VS SocialPeta: Which is The More Almighty Ad Intelligence Tool?
If you're just getting started with advertising for your online business, you might want to know how the best in your niche or industry are successfully managing their campaigns.
Maybe you're already using Facebook ads, and want to beat your competitors but you're not sure about their ad strategy so as to replicate their success on your own campaigns.The easy way is Facebook Ad spy tools. As wrong as it sounds, it's perfectly legal to snoop on the competition's strategies using ad spy tools.
It'll not only help you find the best campaigns and the tactics they currently use, but also helps you be well prepared before running your own campaigns on social platforms.
Spy tools work silently on social media platforms, scraping ads and reporting your competitors' activities, based on your niche.
Besides knowing their ad strategies, you can also see their intentions, how they spend and market, plus much more.
Facebook doesn't like ad scraping though, which is why many such spy tools don't exist; they've been blocked by the platform.
Still, there are several ad spy tools that make it ridiculously easy to snoop on the competition and get ideas you can replicate in your own ads to win every time.
Two of these are PowerAdspy and SocialPeta, which are among the best on the market.
In order to help you decide which one to use between the two, here's a review and comparison of both tools.We'll look at each tool individually, and then compare them for function, number of ads and pricing, and finally give our recommendation.
PowerAdSpy
PowerAdspy is an online Facebook ads tool that relies on numerous sources to collect Facebook Ads so you can find the best ones running on the platform.
It monitors your competitors' ads to deliver the winning ads so you can apply their success formulas to your business.Each ad example is updated and sent to data processing servers in Power Ad spy where the information collected is converted into insightful data that you can use for decision making.Some of the data you can see includes your target audience's interests, age, and geography, over and above what the competition is up to.It also shows the social interactions per ad, and can search ads based on advertisers, keywords, landers, trackers, and competitors' domains.
With PowerAdspy, you get many benefits for your business including:
Ability to search ads based on domain or niche
Simple social ad spy & easy filtering of social ads
Helps you create and run efficient marketing and advertising strategies
You can spy on the competition by tracking their creatives, ad copies, angles, and more
Use data scraped directly from ads for your campaign and monetize your business
The tool is time-savvy, which means it saves you a lot of time that would otherwise have been wasted in endless research
PowerAdspy is an intelligent tool packed with powerful features that let you find winning ad campaigns from about 50 million ads collected from more than 20 countries.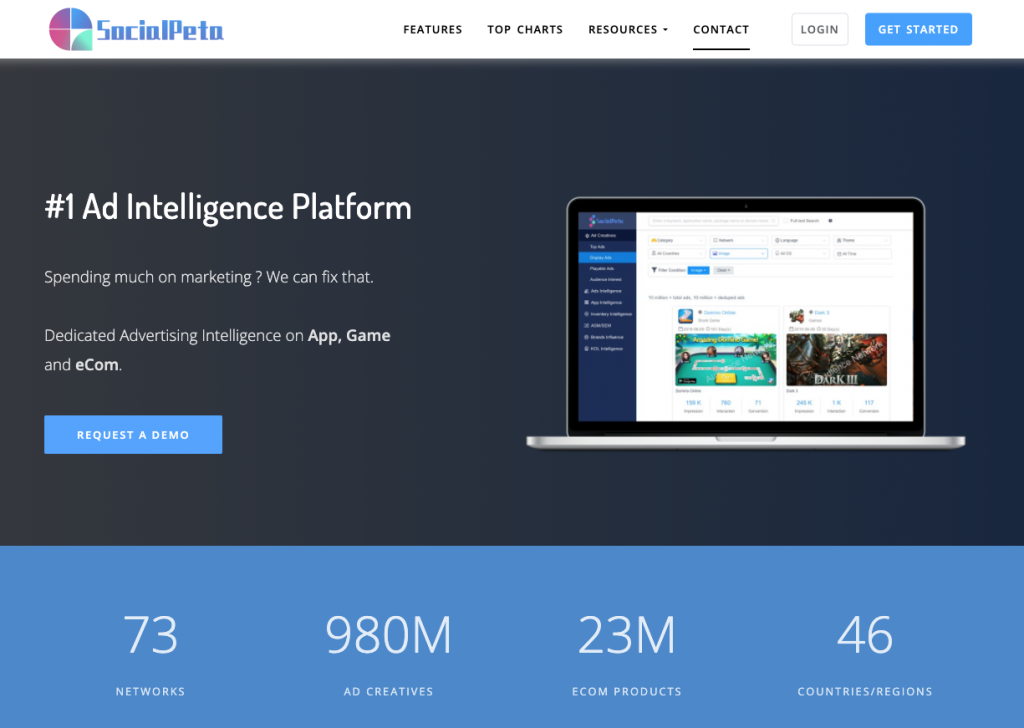 The functions of PowerAdSpy are very similar, SocialPeta also has powerful advertising monitoring and analysis functions, and has excellent data analysis capabilities and a more powerful database.
In addition to the main social media platform Facebook, SocialPeta can also monitor 73 popular social media platforms and advertising channels around the world such as Instagram, Twitter, Tik Tok, YouTube, etc. It has more than 980 million creative materials and has a huge and complete database that is rare on the market. It can monitor the advertising materials that competitors place on various channels and learn from their formats, ideas and channels.
Compared with PowerAdSpy, SocialPeta has a stronger data analysis function. SocialPeta has more accurate audience analysis intelligence, which can analyze the precise audience of keywords/advertisers, education level, marital status, age, gender, country and region, etc., as well as the CPC, CPM, CTR, CPA and so on of each region and channel.
With the help of SocialPeta, we can better obtain advertising competition intelligence:
Ability to search for any ads based on domain names and keywords
Includes 73 popular advertising channels and filtering systems in 45 countries
Advertisement can be monitored by ad format, ad copy, ad creative
Can easily obtain audience analysis of any keyword
Cost analysis can be conducted for different channels, countries and keywords
E-commerce analysis with comprehensive content and powerful filtering system
Universal account, one account can easily obtain all permissions
SocialPeta is an all-round ad spy tool, and has a larger database with more practical functions.
Main function
The main function can see the positioning of this tool, whether the function is rich enough, whether it meets the needs, is the most important aspect of all advertisers.
PowerAdSpy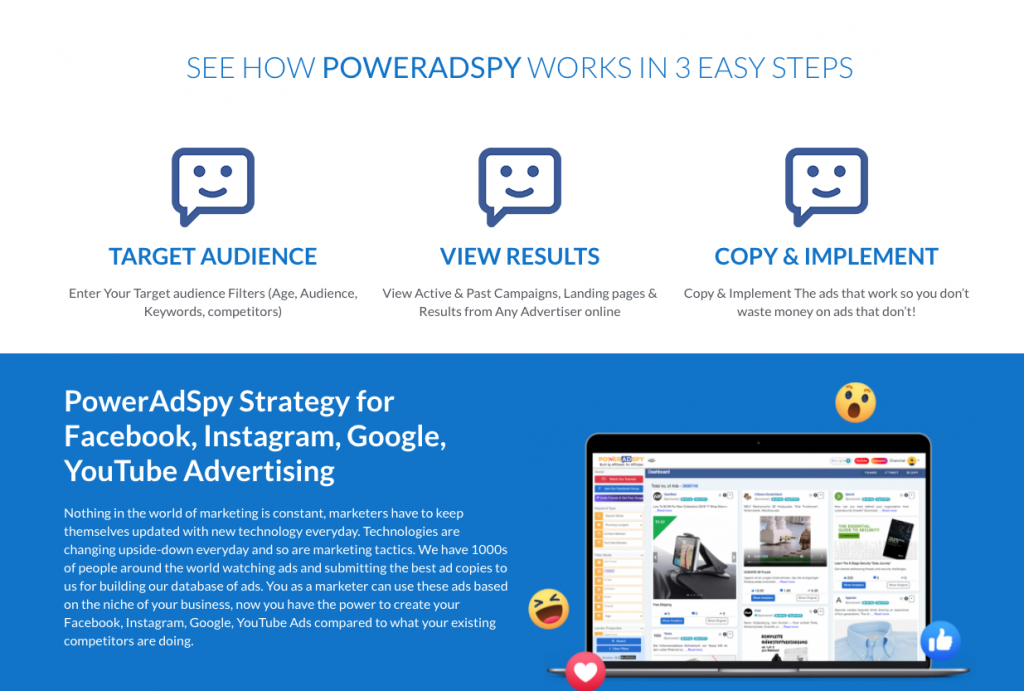 As a well-known Facebook ad spy tool, the main functions of PowerAdSpy are:
Facebook ad spy, with the function of searching and filtering all advertisements on Facebook.
Target audience, you can enter the target audience filter.
Copy successful advertising ideas to avoid wasting budgets in ineffective advertisers.
The main advertising monitoring channels are Facebook, Instagram, Google, and YouTube.
SocialPeta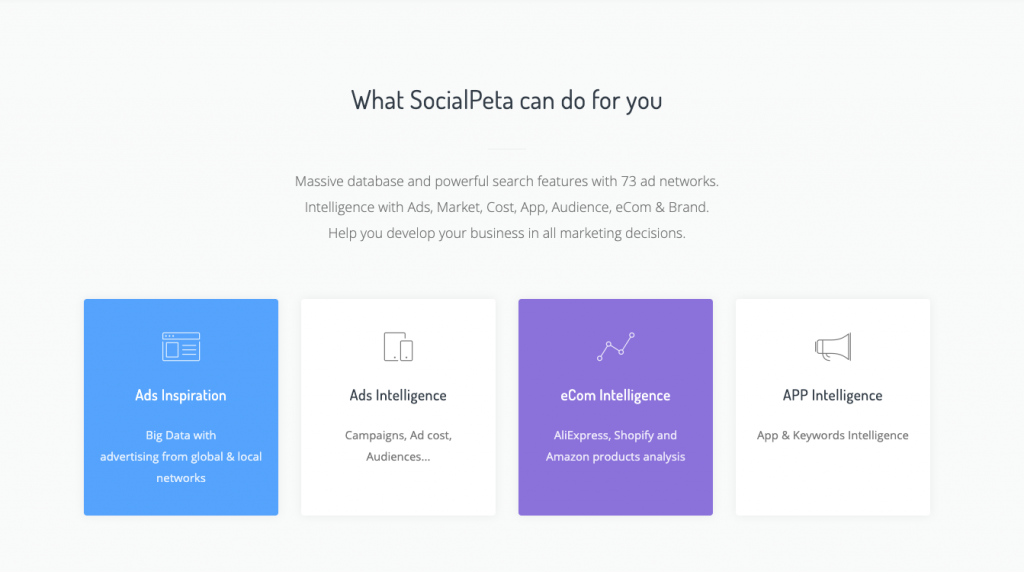 Compared with PowerAdSpy, SocialPeta's functions will be more abundant:
With 73 popular channels of creatives, there are more than 980 million creatives for you to learn from.
With the function of copying and downloading creative materials and ad copy, it can obtain the marketing strategy of competitors from successful advertisements.
With the analysis and comparison function of the advertisement delivery situation of 73 channels, the channel data can be obtained more intuitively in order to screen out the optimal advertising delivery channel.
It has a clear audience analysis function, which can determine the CPC/CPM of the audience and target area based on keywords and names.
With the function of cost analysis, CPC, CPM, CTR, CPA data from different channels and regions can help you better save your advertising budget.
It has a complete and accurate e-commerce analysis and filtering system, including shopify, AliExpress and Amazon's creative materials, to help you better select cross-border e-commerce products.
Each of these functions can be independent, but when they are aggregated in SocialPeta, a comprehensive advertising competitive intelligence system will be formed, which is very important for advertising practitioners, which can minimize advertisers budget.
Filtering system
The filtering system is also very important for advertisers. The comprehensiveness of the filtering system means the accuracy of the creatives it can target. The more precise the positioning, the more effective the data we obtain.
PowerAdSpy
You can search or filter them by relationship, gender, age, or whatever is happening on the landing page.
You can even search ads based on competitors' domains and see almost all the ads they're running.
Similarly, PowerAdspy's powerful search algorithm helps you find ads and sort them by shares, date, likes, and comments, to pick out the ones to use to grow your own campaign.
The tool finds ads running on Facebook based on your selected keywords and niche market, in order to scrape the ads example. If you don't find certain ads, you'll need to change your keyword.
SocialPeta
SocialPeta's advertising filtering system and e-commerce filtering system are separate, and both are complete and accurate.
Ad filtering system:
Keyword search and exclusion
46 countries
73 channels
Ad format-image, video, carousel, html, playable
Device system-iOS, Android, PC
Date, language, advertising theme
Sorting-first seen, last seen, popularity, impression, duration, interaction, overall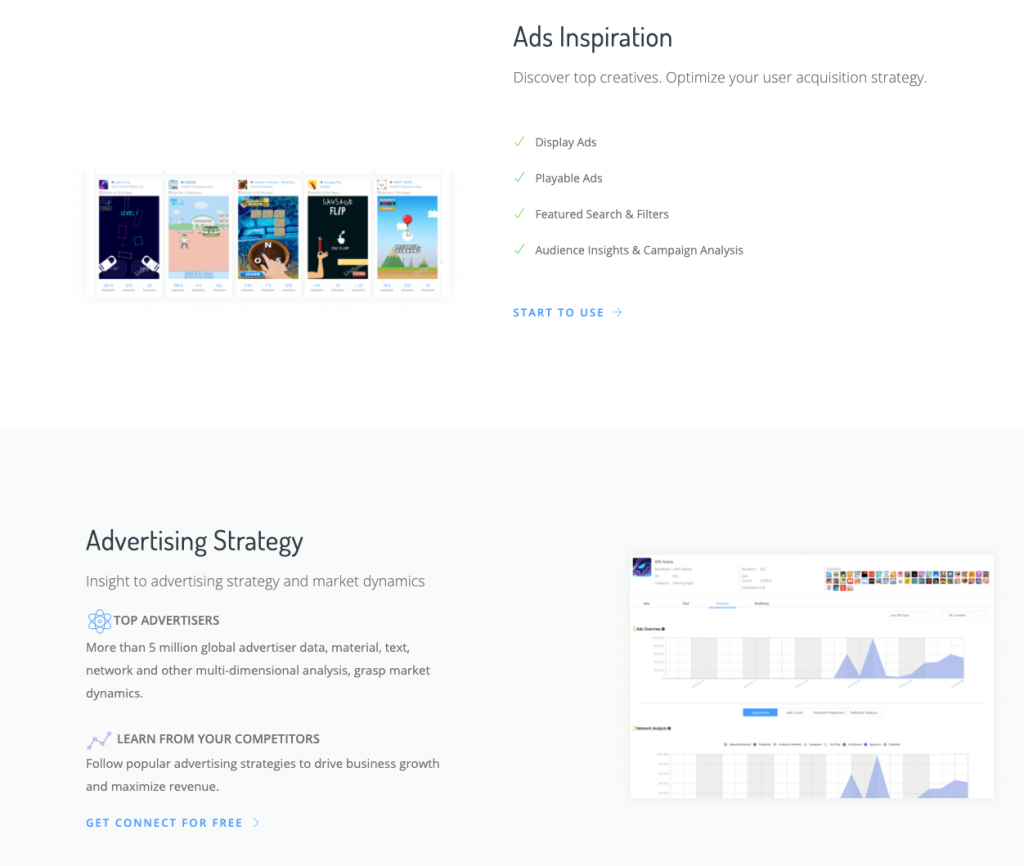 E-commerce filtering system:
order last 7 days
order 7 days growth
top country
price
review
review growth
average review
categories
shopify sellers
with a video
top brand
paypal
fast shipping
Amazon product research
Amazon market insight
total listings
current BSR
star ratings
buybox seller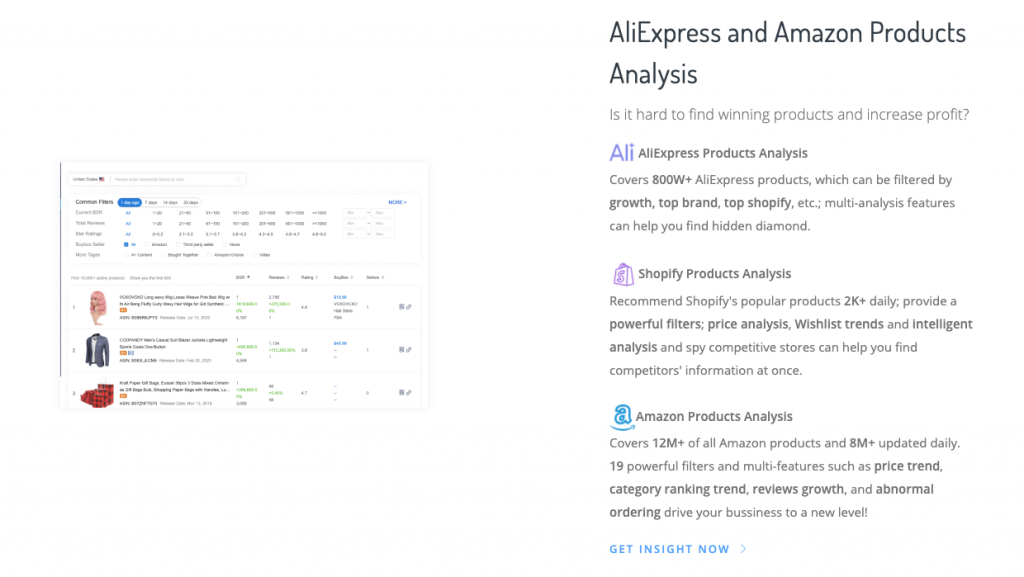 The rich filtering system is one of the advantages of SocialPeta. Many advertisers choose SocialPeta as the advertising intelligence analysis tool because it is the most versatile and easy-to-operate tool on the market. It has a comprehensive filtering system that can accurately target any competitor's Advertising, collecting more effective advertising competition information, is conducive to advertisers to make better advertising marketing strategies.
Pricing
Advertisers are very concerned about the price of advertising spy tools, because it can be included in the advertising budget. Of course, the lower the budget, the better. Therefore, as a necessary expenditure for advertising spy tools, advertisers need to know whether it knows it or not. Value for money.
PowerAdSpy

There are five PowerAdSpy plans. Let's go through them, one by one.
Free: The free plan costs $0 and doesn't require a credit card. It gives you access to the platform (Facebook, Google, Instagram, and Youtube), ALL the features, and the ability to conduct up to 20 searches. You will only have access to the platform for 10 days.
Basic: The Basic plan costs $49/month and has a $1 three-day trial. As mentioned, you will only be able to access Facebook ads and filter your searches by keyword. You also will only get basic ad data.
Standard: The Standard plan costs $99/month and comes with a $7 five-day trial. All subsequent plans also come with the same trial option. It adds Instagram ad search access and the ability to filter based on CTA, ad type, ad placement, gender, age, etc.
Premium: This plan costs $149/month. It adds access to Youtube ads and gives you access to all features, including the ability to filter based on ecommerce platform, device, niche, tracking system, and funnel.
Platinum: This plan costs $249/month. It has all the features of the Premium plan, plus access to Google ads data.
SocialPeta
SocialPeta's quotation is currently not publicly available. You need to contact the person in charge to get the quotation. However, according to its internal staff, the contact email may have unexpected surprises.
Conclusion
Below I will show you the difference between PowerAdSpy and SocialPeta more intuitively in the form of a table:
| | | |
| --- | --- | --- |
| | PowerAdSpy | SocialPeta |
| Country | 20 | 46 |
| Network | 4 | 73 |
| Ad creatives | 50M+ | 980M+ |
| Audience analysis | ✅ | ✅ |
| Cost Intelligence | ❌ | ✅ |
| Platform analysis | ❌ | ✅ |
| eCom Intelligence | shopify | shopify, AliExpress,Amazon |
| Creative type | video,image | video,image,html,carousel,playable |
| Keyword search filter | include | include, exclude |
| Creative download | ✅ | ✅ |
| ad text | ❌ | ✅ |