Gun+Car+Ball Games Sweep India; Real Money Games with its Downward Trend
Data show that the growth rate of the Indian game market is the highest in Asia and even in the world.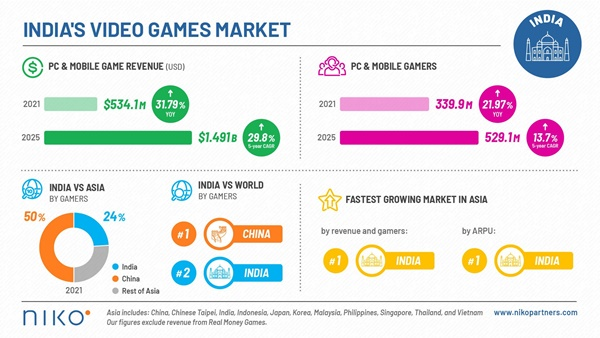 As a populous country, India has 0.9 billion young and quality net users among its total population of 1.4 billion. Though its current game market is worth only 136 billion rupees (about 1.8 billion USD), no one would deny that India has grown to be one of the biggest game markets in the world. So, many game companies started researching the Indian market preferences and to get insights into the Indian market, trying to grab a share of this potential market as bigger as possible.
SocialPeta Research of SocialPeta, a world-leading mobile game intelligence platform, worked out a chart about various popular game genres based on a statistical analysis of the top 100 games by downloads and revenue in India.
Popular Mobile Game Genres in India: Simulation, Action, Sports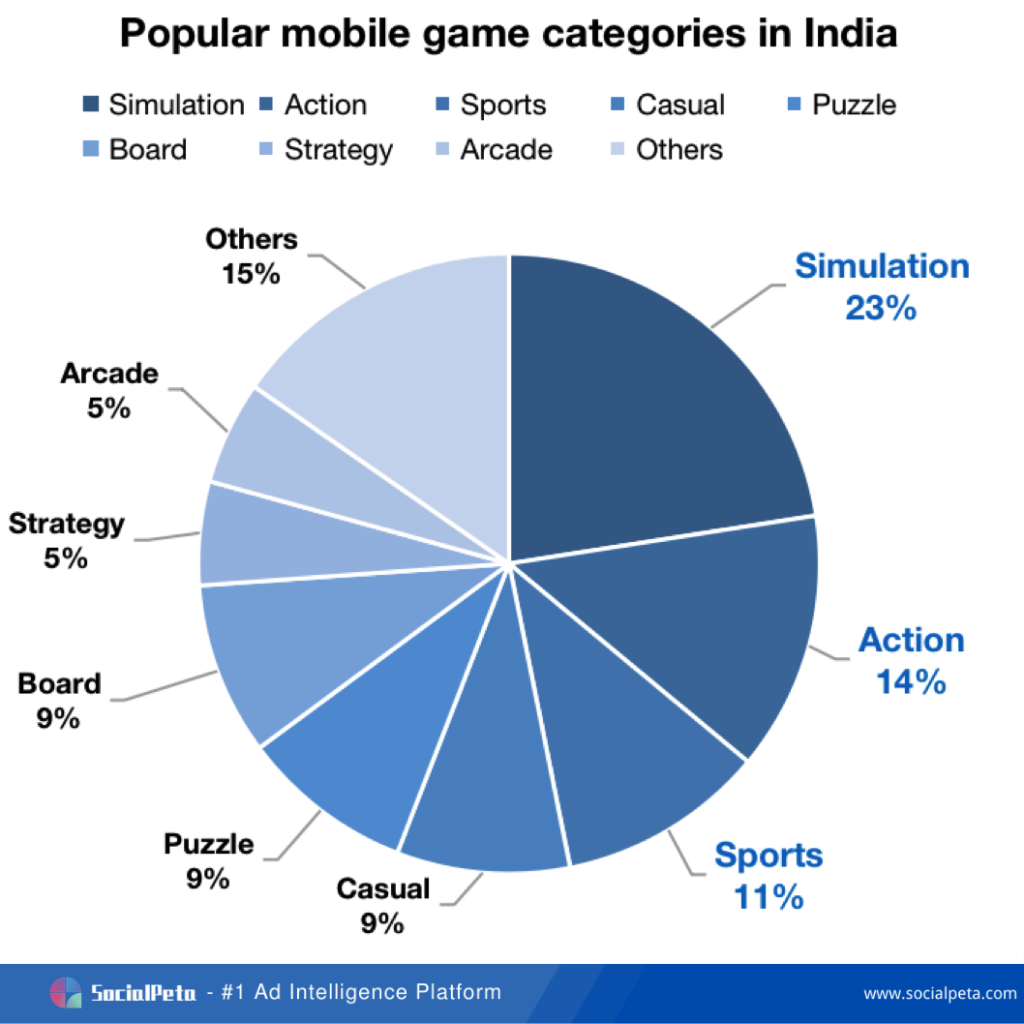 Simulation, action, and sports are the 3 most popular game genres in India, with Gun+Car+Ball games raking in revenue. Car-themed simulation games have been soaring far ahead. There were 2 car-themed simulation games among February's top 10 games by downloads in India.
Shooter games have become a representative of all action games. And battle royale shooter games have remained the most downloaded for several months. Battlegrounds Mobile India published by Krafton successfully grabbed the market share of Garena Free Fire and PUBG Mobile to become the nationally well-known battle royale game in India. According to data from SocialPetal, the game acquired 34 million users on Android in just one week since its release.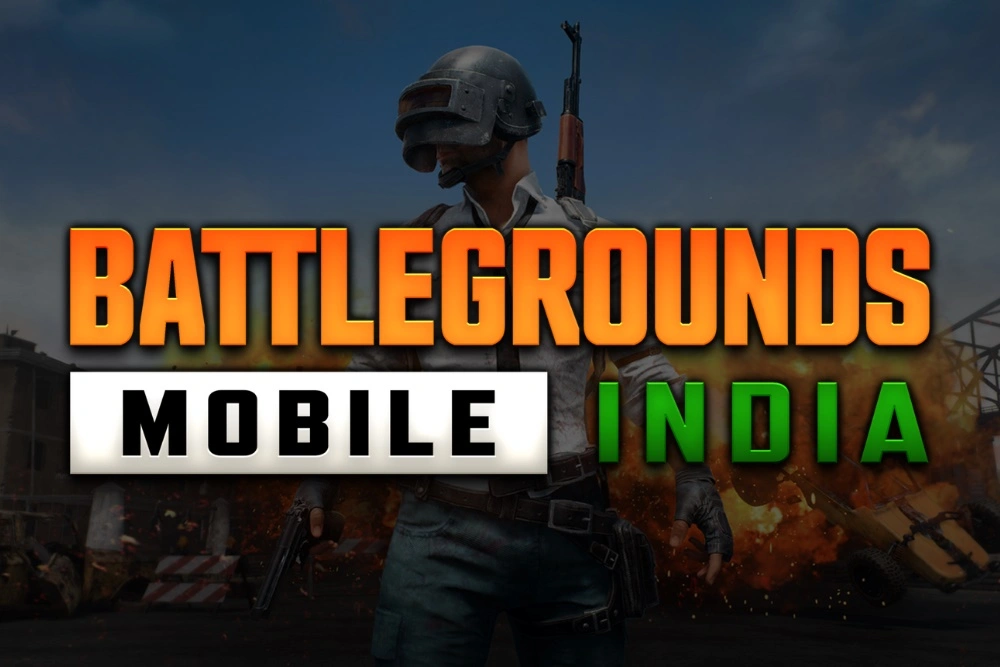 Though not extremely popular as compared to shooter games, casual games steadily occupied 9% of the market. Playrix had two casual games on the chart of top 10 games by revenue in February. Match-3 and parkour games became the most popular among all casual games in India.
Now let's see some cases of the above popular game genres in India. Using the APP Intelligence of SocialPeta, SocialPeta Research selected the following 3 most popular games to show their marketing characteristics.
Analysis of Popular Games in India
1. Ludo Supreme Gold: New on the chart, real money temptation to players
As a local game in India, Ludo King has enjoyed obviously high popularity. Though its gameplay is simply airplane chess, the game has remained one of the top 3 games by downloads for 6 full years from its official release in 2016 to 2022. And Ludo Supreme Gold, a combination of Ludo's gameplay and gambling, also appeared on the chart in March in India.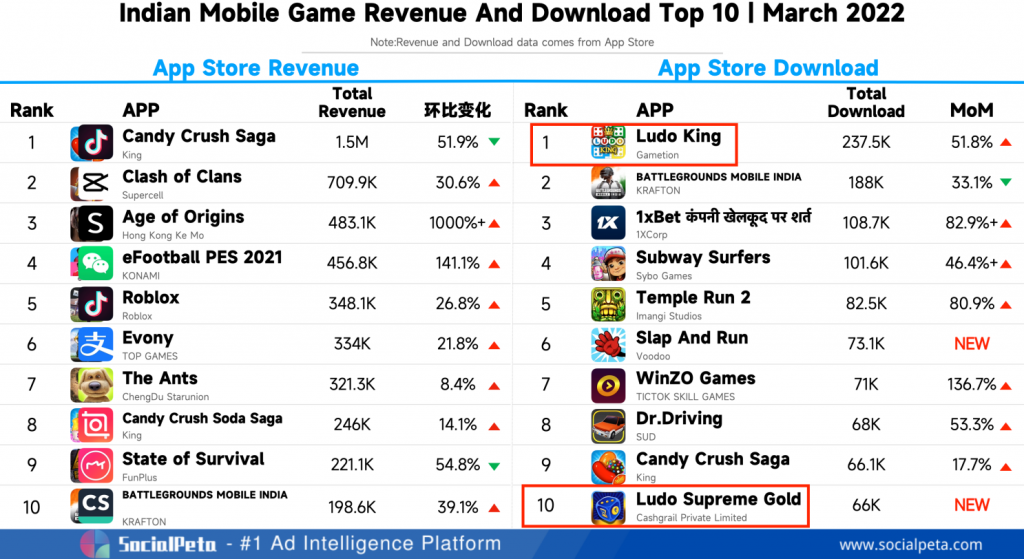 We can see from its ad creative that as a combination of a play-to-earn game and a board game, Ludo Supreme Gold has been acquiring users thanks to its real money rewards and simple gameplay.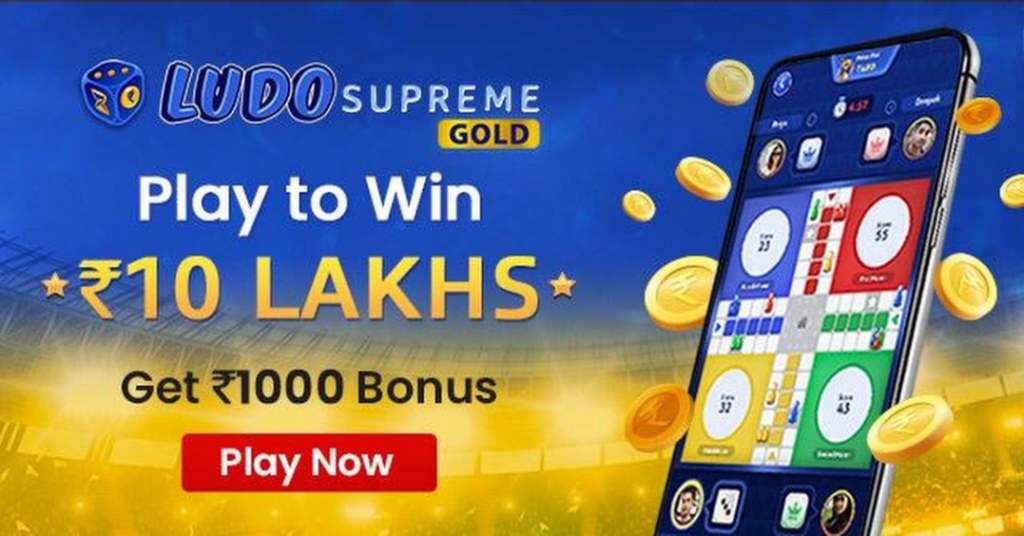 2. BATTLEGROUNDS MOBILE INDIA: Social communication is the game's core
Thanks to the solid player base inherited by the game that was considered to be PUBG Mobile's replacement, BATTLEGROUNDS MOBILE INDIA defeated Call of Duty and remained No.1 most downloaded game.
Multiplayer games satisfy people's demands for rich social communication, and fast-paced gameplay and exciting game scenes are very welcome on live streaming and suitable for e-sports. After analyzing the ad creatives of several shooter games by using the Ad Creative of SocialPeta, SocialPeta Research found that advertisers were focusing on highlighting games' value as a platform for social communication and making friends.
For example, in a popular creative of BATTLEGROUNDS MOBILE INDIA: Players can play the game on a train, in restaurants, in barbershops, or even during tooth-brushing, transform themselves as well as people around them into in-game characters and fight together. The noisy real-world background and the in-game scenes from time to time, all together highlight how convenient it is to play mobile games.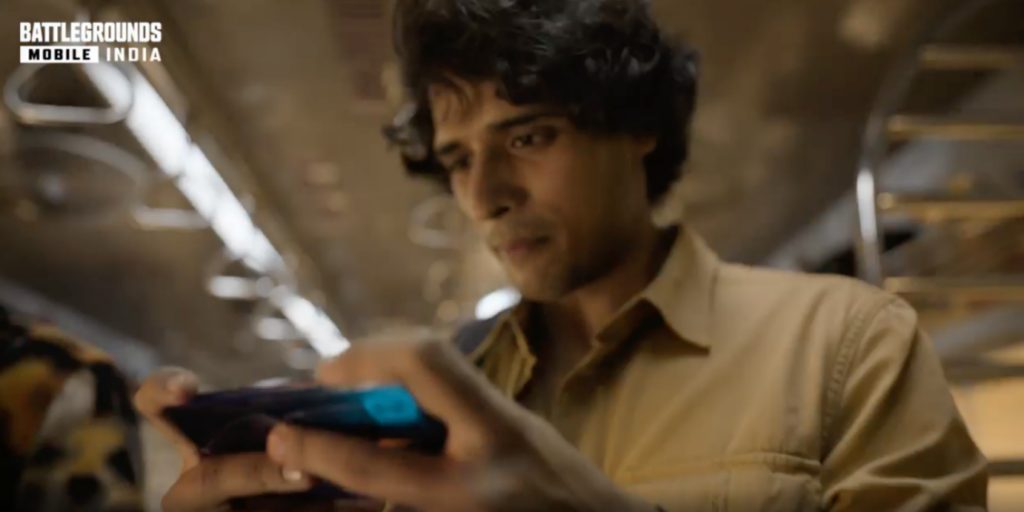 3. Food Cutting: Female gamers drive the rise of casual games
Food Cutting, a casual business simulation game, received an over 1000% month-on-month growth of downloads in February 2022. Its enormously increased downloads indicated that hyper-casual games have great potential in India. According to SocialPeta Research, the rise of casual games in India was a result of the popularity of smartphones and the increased number of female gamers. Female gamers in India increased from 18% to 49%, and 70% of core players of casual games in India were female.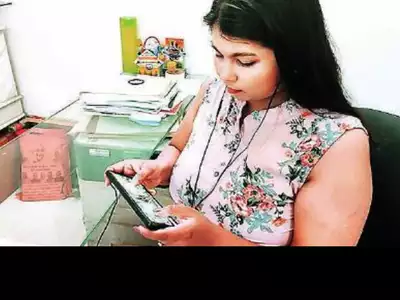 Food Cutting's creative below targets at female gamers. The creative visually shocks viewers with the six-pack of a half-naked guy in the upper-right corner, and shows a gross and weirdly attractive scene of a cockroach being madly smashed into a piece of meat. And viewers will be upset by the constantly clumsy actions in the following scene and want to play the game themselves. The creative is a typical one with a wacky process and a bad ending.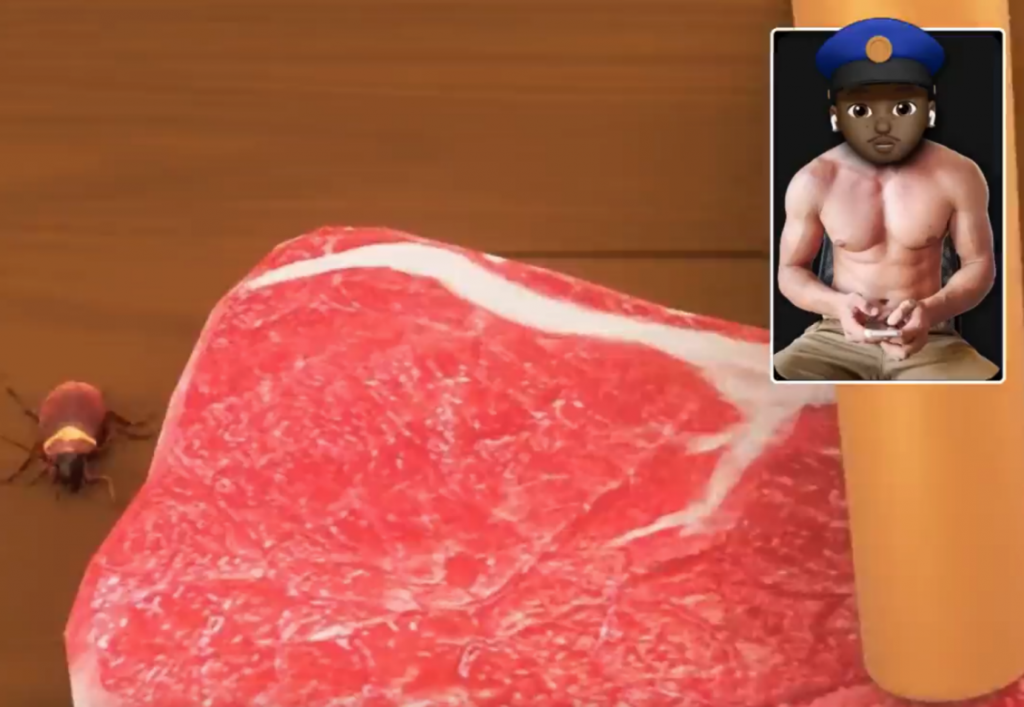 Indian Game Market is Facing a Great Challenge
The access to 4G networks and the control measures implemented due to Covid-19 pandemic provided two opportunities for Indian games. During this period, the Indian game market grew rapidly. But Indian games are facing a new major challenge which has been divided into 3 parts by SocialPeta Research for the purpose of analysis:
First is the fading benefit of stay-at-home economy. The rapid growth of Indian games in 2021 was mostly because of the pandemic. The strict control measures against the pandemic let people have so much more free time and energy to spare, they indulged in games. However, in the post-pandemic era when no such control measures are implemented, people have more options for entertainment, such as offline gambling and group activities.

Second, despite the ban on many foreign apps, Indian local games are still in a weak position. Top games in India are mostly developed and published by foreign companies. Though gambling games are India's special game genre, due to their fixed gameplays that haven't changed much in years, their market share has been declining, instead of increasing.
Last is the old gameplays and the loss of users. Those problems are not exclusive to gambling games. Most local games in India are facing the same problems as gambling games. Game companies have to figure out solutions to problems concerning user acquisition, long-term operation, etc. According to SocialPeta Research, the right solution is to get insights into market information and actively make changes based on users' feedback.
Keep Pace with Market Trends
After a careful analysis of a lot of popular games in the market, SocialPeta Research concludes that there are 3 development trends for top Indian games:
1. Top games will satisfy users' demand for social communication, and multiplayer online battle arena games will display their value in making friends.
2. The integration of hyper-casual elements into gameplays, targeting the increasing number of female gamers in India.
3. Real money games will actively adopt classic casual gameplays.
Changes in the trends of top Indian games have much to do with the changes in India's social, political and economic environment. With the fading benefit of stay-at-home economy and constantly improved network infrastructure, game companies should pay close attention to user preferences. SocialPeta, the world's leading analysis tool for advertising and marketing data, can help game developers and publishers better understand market information.