NFT games: Future or Crisis?
Let's get a glimpse into the news about NFTs in 2022:
1. On 7 January 2022, GameStop Corp announced the launch of a division to develop a marketplace for nonfungible tokens (NFTs), boosting the video game retailer's shares by 27% in extended trading on Thursday.
2. On 19 January 2022, NFT marketplace OpenSea announced it was putting some of its freshly raised funds to good use, buying up the crypto wallet startup Dharma Labs for between $110 million and $130 million.
3. On 21 January 2022, Twitter debuted a feature that allows subscribers to its paid Twitter Blue service to use an NFT as a profile picture, a way of encouraging more users to display digital art and more people to subscribe to its Twitter Blue.
4. On 19th January 2022, Mobile Legends: Bang Bang, a mobile MOBA game developed and published by Moonton, released its first-ever collection of NFTs, consisting of 25,000 NFTs which were sold out within 2 minutes.
After a chaotic year in 2021, the market for NFTs is still not showing any signs of slowing, instead, it continues to attract more and more public attention worldwide. However, there are still many people who believe that the market is driven by hype and speculation. Critics call it a market with no rules or regulations, an overblown speculative bubble inflated by scams and market manipulation.
However, it's obvious to all that NFTs can attract large sums of money. For example OpenSea, the world's largest NFT marketplace. In the middle of 2021, the company raised $100 million in funding and hit a valuation of only $1.5 billion. In January 2022, the company raised $300 million in another funding round that boosted its valuation to $13.0 billion, up 800% within only half a year.
What exactly is an NFT?
An NFT, short for a non-fungible token, is a new form of digital ledger that is verified and stored using blockchain technology. The value of an NFT is unique unto itself, and is not exchangeable for another NFT of the same value, which is different from fungible tokens like Bitcoin (Bitcoins of the same value are exactly the same in nature). An NFT is indivisible. Unlike Bitcoin or any physical currencies, it can not be broken down into small values and only exists as a whole.
Currently, NFTs in the form of digital art are the most popular in the market, followed by game items, virtual real estate, and digital music which have also made an important contribution to the revenue of the entire NFT industry. According to the market tracker DappRadar, sales of NFTs reached some $25 billion in 2021, increased by hundreds of times compared with 2020.
Many well-known game companies considered NFTs as the key industry for their future development.
South Korean online gaming giant Netmarble announced plans to launch about a dozen new games that use blockchain and metaverse technologies. Bang Jun-hyuk, the founder and chairman of Netmarble, said in a press conference that Netmarble is preparing to launch 20 new games, of which about 70% will use blockchain technology.
There're other companies in South Korea that explored blockchain before Netmarble. In December 2021, Com2Us (South Korea's oldest company of mobile games) launched an official website for its C2X blockchain platform which links NFT exchanges and various games to support transactions.
In November 2021, Matthew Wolf, a former Coca-Cola Games exec, began a new job at Zynga where he established a new studio to develop NFT games. Wolf said in an interview that the new game will be developed based on Web 3.0 with the famous NFT Internet celebrities on Twitter like crypto speculator and crypto whale, and other huge fans.
Only 50% hardcore players are interested in NFT
Though many companies are making plans to venture into the NFT market, there are also quite a few famous companies and game developers who chose to give up their NFT plans halfway due to high market pressure or personal reasons. For example, Troy Baker, a prominent voice actor perhaps best known for playing Joel in The Last of Us, announced his partnership with Voiceverse NFT on Twitter on 31 January, causing a massive outcry among his fans, and had to step away from the NFT plan; Team17, the developer of Worms, announced an end to its NFT project on 2 February this year after suffering backlash from its employees, partner studios, and fans.
According to the Game Developers Conference ("GDC"), only 30% of studios had an interest in NFT games. Many quotes directly from developers were scathing. "How this hasn't been identified as a pyramid scheme is beyond me."
A study of 1,500 console and PC gamers found that only 56% of hardcore gamers were interested in earning NFTs through gaming, according to market research firm Interpret.
Gamers remain concerned that game companies will use NFTs to nickel-and-dime them through NFT transactions rather than make fun games. Gamers are also concerned about scams, money laundering, too much weight placed on P2E (Play To Earn) to affect the environment in NFT games.
Source: A survey on NFT gamers by Interpret.
Popular NFT games available on the market
Thetan Arena
Thetan Arena, released on 27 November 2021, is a MOBA & Battle Royale game based on blockchain technology. The game exploded in popularity upon its release and appeared on the list of top 10 games by downloads on iOS in a couple of countries in December 2021.
The game was one of the few NFT games that were advertised massively on the Internet. Thetan Arena had over 300 deduplicated ad creatives, with the most popular piece of creative receiving 2.5 million impressions, according to SocialPeta, the world's leading advertising and marketing platform.
Axie Infinity
Axie Infinity was the most popular blockchain-based game in 2021 that allows players to raise and battle creatures known as "Axies". The game resembles very much Pokémon and other strategy games and Hearthstone and other turn-based card games.
At the peak of its popularity, the game recorded a revenue of over $40 million in a single day, 3 times more than that of Tencent's magnum opus Honor of Kings.
Sorare
Sorare is a global fantasy football game where you can play with officially licensed digital cards featuring professional football players, and earn prizes every week. We are already trusted by 100+ football clubs, with many more coming!
The game is similar to Football Manager in overall structure and gameplay, only simpler. The game is also very similar to FIFA Ultimate Team ("FUT"). Players collect digital player cards to enter tournaments, get ranked, and earn money. Sorare is more like an idle game of football.
Gods Unchained
Gods Unchained is one of the most prominent blockchain-based games to date. It's a crypto turn-based fantasy card game in the vein of Hearthstone and The Elder Scrolls: Legends. Gods Unchained delivers an online collectible card game experience. The cards are tokenized digital assets on the Ethereum blockchain, which means players can buy and sell them and each card is unique of different value and rarity levels, just like physical card games.
CryptoKitties
Officially launched in 2017, CryptoKitties is the first game based on blockchain around the world. 50,000 NFTs of CryptoKitties were initially created with smart contracts, they are also called Gen-0 kitties. Each NFT kitty has a unique combination of traits and attributes. Two NFT kitties are capable of breeding.
The Sandbox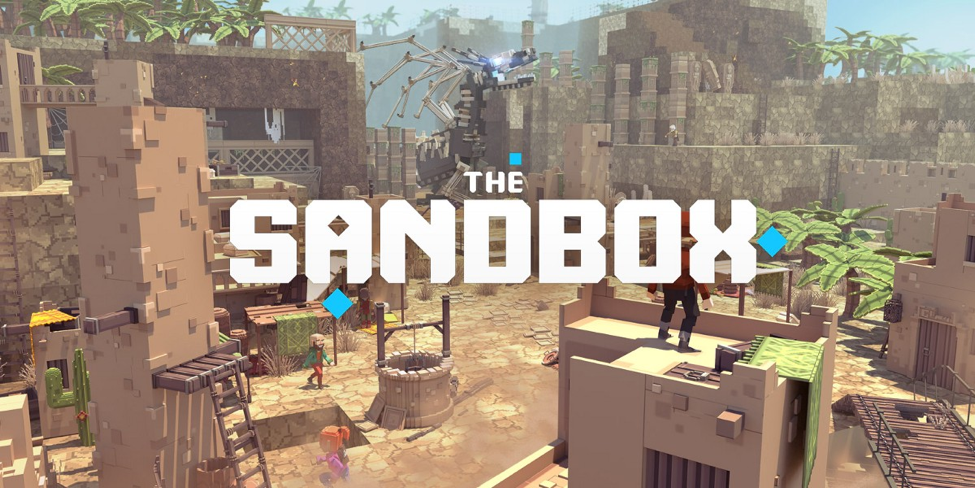 The Sandbox is a decentralized virtual Metaverse built on the Ethereum blockchain, where players can create 3D voxel assets in the form of NFTs and upload them to the game. The Sandbox may be able to allow users to scan real-world objects into the game in the future.
In December last year, with the booming Metaverse market, the SAND (in-game NFTs) price soared 120% within 7 days, and increased by 10 times within 30 days. In the same month, The Sandbox also raised $93 million in a round led by SoftBank's Vision Fund 2.
Nine Chronicles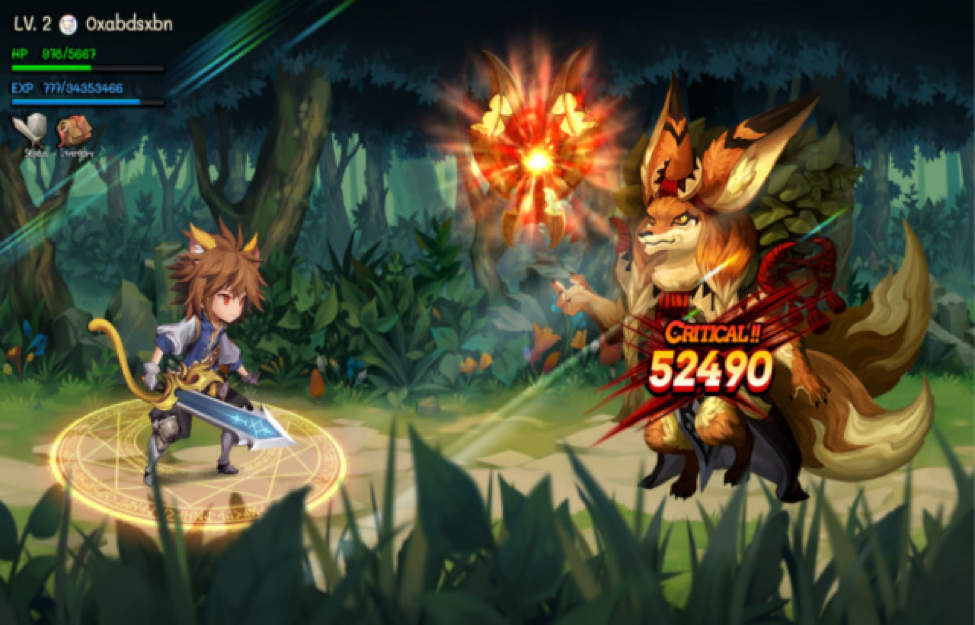 Nine Chronicles is a blockchain-based, free-to-play, MMORPG that allows players to mine treasure, craft NFT weapons, and fight against enemies.
Nine Chronicles Gold (NCG) is the main currency used in the world of Nine Chronicles. Players can spend NCG to craft powerful items, trade with other users, challenge each other, and accelerate growth.
Town Star
Town Star is a business simulation game launched by Gala Games, a platform of blockchain-based games. It allows players to select a plot of land to build a city on and operate the city by planting, mining resources, and establishing factories. Different operating strategies and farm layouts will lead to different development directions. If newbies have no plan for the distribution and production of resources, they may fail at the beginning. It's a very challenging game.
Splinterlands
Splinterlands is a blockchain-based card game. It features gameplay that is similar to the Battlegrounds of Hearthstone, which ignores the micro control, and only focuses on the overall strategic layout. For each battle, players will choose monsters to be deployed and the formation based on the total Mana. When the battle starts, Monsters will auto fight according to each player's abilities until there is a winner.
In Conclusion
For the purpose of learning more about NFT games, I played almost all the games mentioned above. From the perspective of a gamer, I'd like to say that I had an awful experience playing most of them:
1. Most NFT games require players to be linked to a wallet before playing the game, which somewhat discourages players from trying the game.
2. Many NFT games set too high a bar for players to play them after entering their later stage. For example, Axie Infinity, the big hit of last year. If you are a newbie and want to play Axie Infinity now, you will need to buy 3 pets, each costs $400-$1000. Plus the GAS fees on the platform, you will need to spend $1500 to start your journey of P2E.
3. Most NFT games available on market are truly dull, with most of their gameplays going around P2E to lose all the fun as a game.
I understand that some gamers are concerned about NFT games. However, NFTs do provide a possibility for mobile games in the future. We'll keep watching and see how this market will be going.
Nothing contained in this article should be construed as investment advice.