AdSpy VS SocialPeta: Which is The More Useful Ad Intelligence Tool?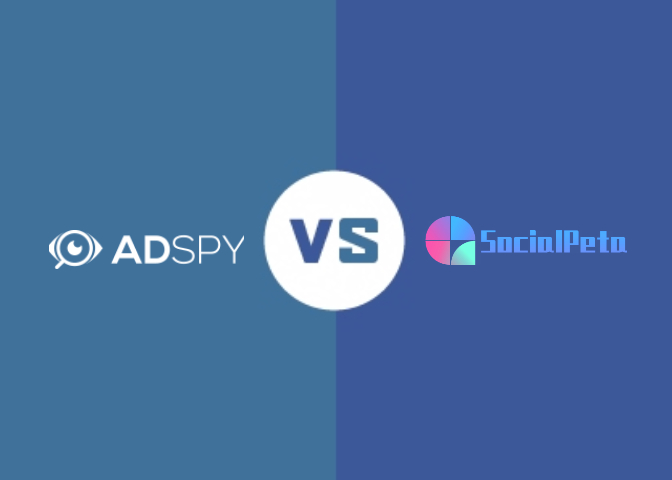 The integrity of advertising information means whether we can have more complete and efficient advertising and marketing strategies and programs than our competitors. We need advertising intelligence tools for advertising creative collection and competitive intelligence analysis, so as to achieve the effect of improving our advertising ROI.
Many advertisers know the importance of advertising intelligence, but they are stuck in how to choose advertising intelligence tools. Today I chose the two most famous advertising intelligence tools in the world for comparison and analysis, aiming to recommend the most useful advertising intelligence tools to the public.
AdSpy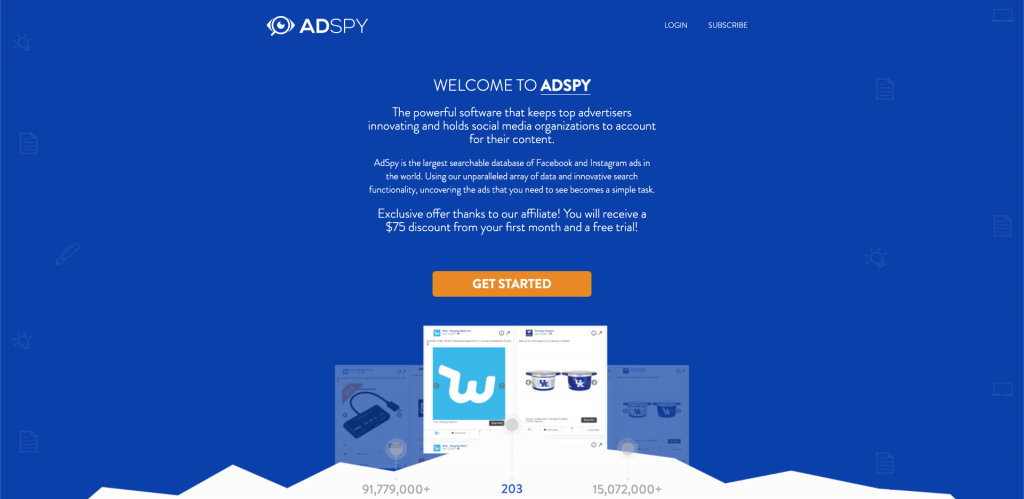 AdSpy is a world-renowned ad spy tool, which is in a leading position in the industry and is authoritative.The powerful software that keeps top advertisers innovating and holds social media organizations to account for their content.
It boasts 91M+ ads in 88 different languages across 203 countries from 15M+ advertisers, making it a powerhouse of a database.
It also comes with some excellent search filters, which allow you to target your competitors' campaigns with uncanny precision.
Use it to discover Facebook and Instagram ads and apply the advanced filters to your search to find ad text, comments, and landing page URL, along with ad types, daily likes and much more besides. It's the largest searchable database in the world. Using AdSpy of data and innovative search functionality, uncovering the ads that you need to see becomes a simple task.
SocialPeta
SocialPeta is also a world-renowned ad Intelligence tool. Compared with AdSpy, SocialPeta has more comprehensive functions and sections. SocialPeta is the most complete advertising intelligence tool in the global advertising intelligence system. SocialPeta covers all advertisements in 73 different channels, with 980M+ creatives. It is the advertising intelligence tool with the most creative creative materials at present, and it can bring more complete advertising intelligence to advertisers.
SocialPeta has the two main functions of Ad Analytics and eCom Intelligence. It has divided countless detailed functions that are not available in other advertising intelligence tools.
Ad Analytics

Game
App
Brand
Inventory
KOL

eCom Intelligence

Amazon
AliExpress
Shopify
SocialPeta also has a special function that AdSpy doesn't have-advertising data analysis function, which has better practicality for advertising marketing. Its advertising data analysis functions include:
Cost Intelligence
Audience Intelligence
Platform Analysis
Publisher Analysis
App Analysis
With the help of SocialPeta, we can filter out the creative materials and advertising marketing information we need. SocialPeta has a larger and more complete advertising information system, and it also has the ability to obtain higher-value advertising information.
Below I will compare and analyze AdSpy and SocialPeta from three aspects: main functions, filtering system, and price:
Data analysis capabilities
For advertisers, the data analysis and processing capabilities of advertising intelligence tools are very important. Advertisers need to analyze and respond to advertising intelligence based on the creative materials and functions provided by the website in order to make the best marketing strategy.
AdSpy

AdSpy, as a well-known and well-known advertising spy tool, has a very high influence. Its advertising coverage of countries, regions and languages ranks first in the industry. With Facebook and Instagram advertising creative search function, you can accurately locate any competitor's ads on Facebook and Instagram.
Its main function is ad spy, which can be divided into:
Ad search
Ad review search
Demographics
Affilates
Comprehensive data from social media sites puts you in control of the fastest developing advertising platforms on the internet. Global coverage lets you assess the world's trends without compromise. Exhaustive search and filter features will uncover the ads that you and your company need to know about, and the simple interface will help you discover them with ease.
SocialPeta
SocialPeta has richer functions than AdSpy. In addition to the most basic ad spy, it also has many useful intelligence functions. Because SocialPeta covers 73 global channels, its advertising creative volume is much more than AdSpy.
In addition to the main functions of SocialPeta described above, there are more detailed divisions in Ad Analytics:
Ad Creatives

Top charts
New trending
Display ads
Copy ideas
Playable ads

Cost Intelligence

Audience
CPC, CPM, CTR
CPA

Audience Intelligence
Ad Intelligence

Top charts
New trending
Advertiser analysis
Ad publisher analysis
Ad platform analysis

App Analytics
eCom Intelligence

Amazon
AliExpress
Shopify

Invenntory Intelligence
Brand Intelligence
KOL Intelligence
SocialPeta can be said to be the most extensive tool in the world in terms of advertising information. It has a comprehensiveness that all similar tools cannot reach, and can meet the needs of all types of advertisers. In terms of advertising information, SocialPeta is committed to building the most complete advertising information collection system, with complete data processing and analysis functions.
Filtering system
The improvement of the filtering system can help advertisers to accurately locate advertisements, and can help advertisers obtain more accurate advertising information and data, to help advertisers find competitors' advertising and marketing strategies, and to further improve their plans.
AdSpy
Due to its lack of channels, AdSpy has tried its best to achieve the ultimate in filtering. The algorithm's diverse and rich filtering system can help advertisers accurately search for any ads you want to view.
AdSpy offers the most search options of any Ad Intelligence Tool, so you can find the data you want, how you want. Search in the usual way: ad text, URL, page name. Search true data from user reactions in advert comments. Be as rigorous as you need to: search or filter by affiliate network, affiliate ID, Offer ID, landing page technologies – whatever helps you find the information you can work with.
The features you expect – enhanced. Search by the text in the ad, the advertiser's name, the number of likes it has, the type of media it uses, etc. Sort the results with clever filters: when was the ad last seen? How do users react? Which ad is the longest running? AdSpy is as powerful as you want to make it.
Uncover the Ads you need to see in one place, with one tool. AdSpy is the only Ad Intelligence Tool available that incorporates top social media data. Make sure that you aren't ignoring a platform where you can thrive, that others often ignore. See what hasn't worked, and what has: ensure your success on these competitive platforms by building on what you know will strike a chord with the consumer.
Leave no stone unturned: our ever expanding collection of ads gives your campaign the greatest foundation for success. AdSpy is based upon one of the most substantial databases of ads you can find: 91.8 million+ ads, 88 different languages, across 203 countries. Controlling the quick, intelligent interface, you'll glide through vast amounts of data until you have exactly what your campaign needs.
With our comment search, social media users are labelling ads for you. Search through ad comments with the keywords you think are important: monitor competitors' brands, your own brands, or see what's had positive or negative feedback.
AdSpy is very careful about the filtering system, so the filtering system is also very complete, basically covering all the filtering systems of advertising intelligence tools.
SocialPeta
SocialPeta's filtering system is also very complete. Compared to AdSpy, it can be said to be no less inferior. The complete filtering system can target any advertisement in 73 channels and 45 countries!
Country
Channel
Equipment
Image
Video
Carousel
Playable ads
Advertising proposal
Keyword search
Keyword exclusion
Language
Format
Theme
Data
First seen
Last seen
Popularity
Impression
Duration
Interaction
In the filtering system, we can see that SocialPeta has absolute advantages, and accurate multiple filtering can provide advertisers with more accurate data and advertising information.
Price
Price is also the most concerned content for many advertisers. As a necessary expenditure for ad spy tool, advertisers certainly hope that the budget spent has its value.
AdSpy

Adspy price starts with as little as just $149 $74 monthly for 1 month, then $149 per month! You will have the key to getting inside your competitor's head, plus all the other juicy features that come with Adspy.
When you first sign up, you will be given free trial credits for Adspy free trial, that you can use to test if the tool is good for you.
SocialPeta's quotation is currently not publicly available. You need to contact the person in charge to get the quotation. However, according to its internal staff, the contact email may have unexpected surprises.
Conclusion
| | | |
| --- | --- | --- |
| | AdSpy | SocialPeta |
| Ad creative | 91M+ | 980M+ |
| Platform analysis | ❌ | ✅ |
| Cost Intelligence | ❌ | ✅ |
| Audience Intelligence | ❌ | ✅ |
| Brand Intelligence | ❌ | ✅ |
| KOL Intelligence | ❌ | ✅ |
| Ad text | ❌ | ✅ |
| keyword search | ✅ | ✅ |
| include keyword | ❌ | ✅ |
| equipment、country、channel | ✅ | ✅ |
| Ad type | image、video | image、video、carousel、html、playable |
| Creative theme filtering | ❌ | ✅ |
| Creative download | ✅ | ✅ |
| Account universal | ❌ | ✅ |