Entering New Mobile Markets: Insights & Tools for Success
— Article and screenshots are from our partner AppFollow.
This is a recap of a speech held by AppFollow's Head of Analytics, Vlad Shishkin, on Entering New Markets webinar by AppFollow and SocialPeta.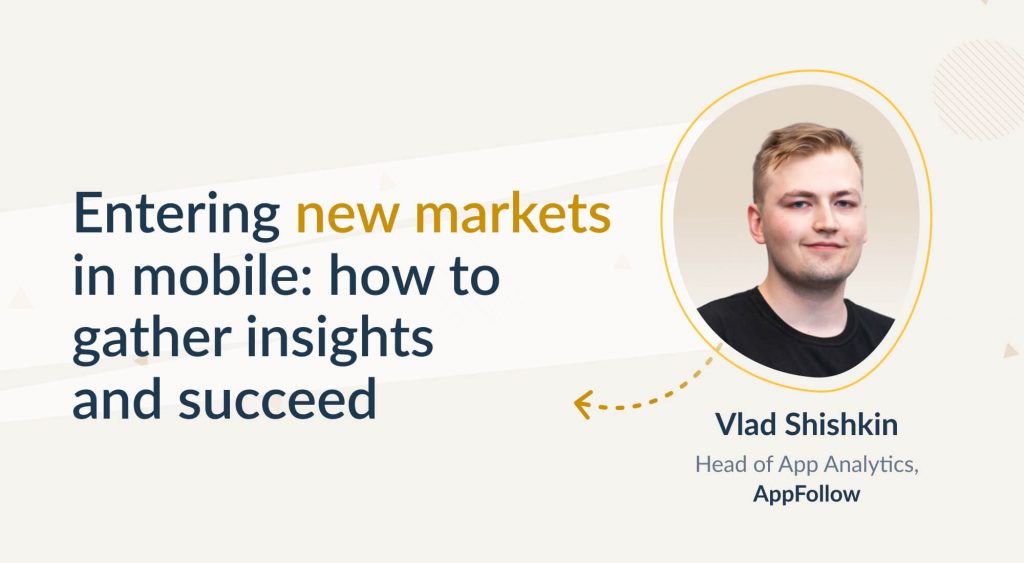 A little bit about us: AppFollow is a mobile market consulting company that provides a specialized tool for ASO, review management, and precise mobile market analytics. We process 150 million reviews and 10 billion keywords monthly across all mobile app stores.
What you will learn is the winning market strategy and what steps you should take to have one, from idea validation to replying to real user feedback.
You will learn how we approach market research at AppFollow and how it can help you achieve your own goals. We will cover localization, post-release app analytics, north-star metrics everyone should be aware of, and review management that is the most important metric when entering new markets. Let's begin!
Market research
The first thing is, of course, market research. When we are talking about the pitfalls and the difficulties while launching an app to new markets, we can categorize them into two large areas: the competitors and the localization language. These two areas can be major roadblocks on your journey to new app markets.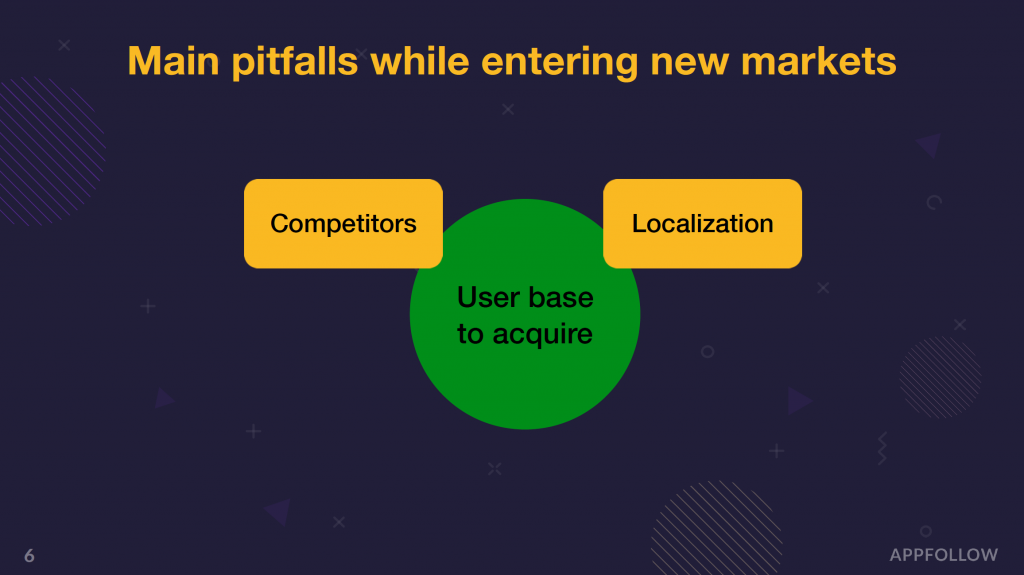 Competitor analysis
Here's how we do it at AppFollow: we begin with market trends and analytics, and the first thing we propose to our clients is to have a clear number of downloads benchmark that will put the app in the top-end position of a target category for a certain country.
Check out the number of downloads the app in each category gets in the top 100 and the top 10. You'll get an idea of what kind of user base you need to aim for.
The next logical step is to understand the dynamics of the market, the trends. We use our own AppFollow functionality to calculate the overall downloads trend for each category and country; we then compare it to the target category in the target country. Having this research done gets you a clear big picture of the trend itself.
Another valuable thing we provide to our clients is insights into market changes.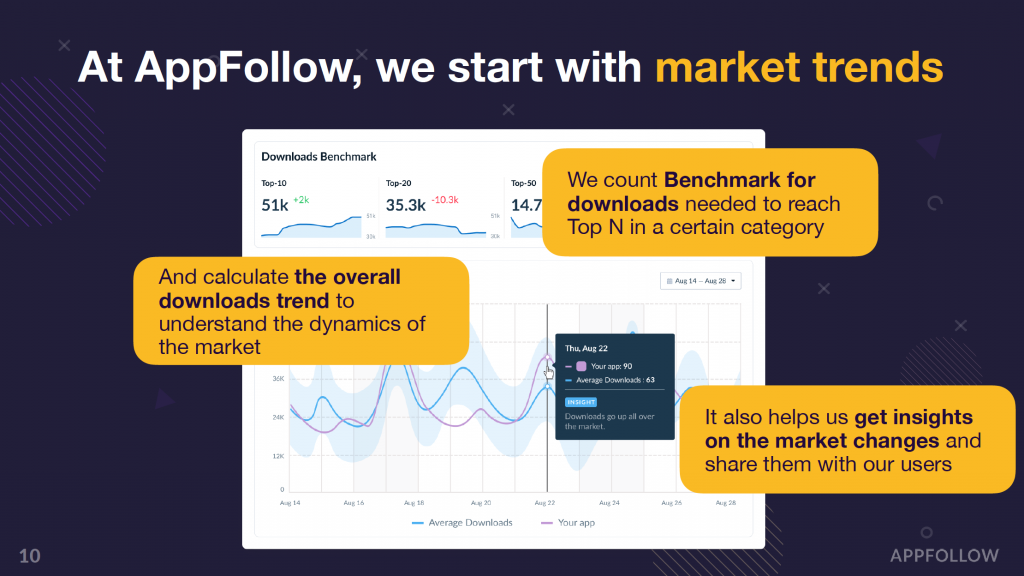 As an example: there are a lot of categories in the app stores that are directly affected by the COVID-19 situation — lockdowns, restrictions, and such. During all that, let's imagine you have an event or a sports app you want to launch in, say, Great Britain, during summer.
Through market analysis, you would notice that, for instance, there was a sudden surge in the sports app downloads. That was because the English Premier League was launched and high-level football came back to Europe. A lot of betting apps got a surge in downloads too as they are directly connected to that sort of event, signaling the overall growth trend.
Our analytics team can anticipate things like that in advance, helping to pick favorable conditions for certain app events or promotions.
Here's a nice case of market research that we have done for one of our clients:
Case #1
So we have a client who was about to launch an app in the educational category in Russia, in the App Store. In the picture below, you can see the download trend for the app, from the middle of April to the middle of September.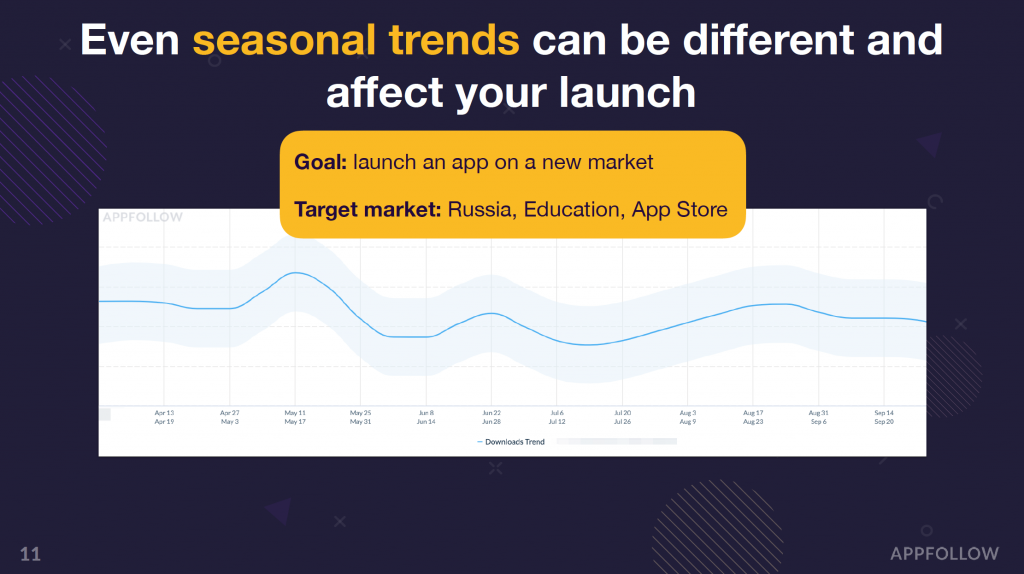 Note the two high points — the first point is the pre-exam preparation boom, a seasonal occurrence in Russia that happens at the end of April/beginning of May. See the rapid fall by the end of May? That's the end of the examination period.
The second trend is the preparation for the school year to start, which is in September for a lot of countries out there. It is important to prepare for that even if you are launching an app locally.
We helped to account for these crucial time periods and built a picture of the competitor landscape — the competitor apps on the market right now, how difficult it is to compete with them, what are the advantages we could capitalize on, etc. And it worked.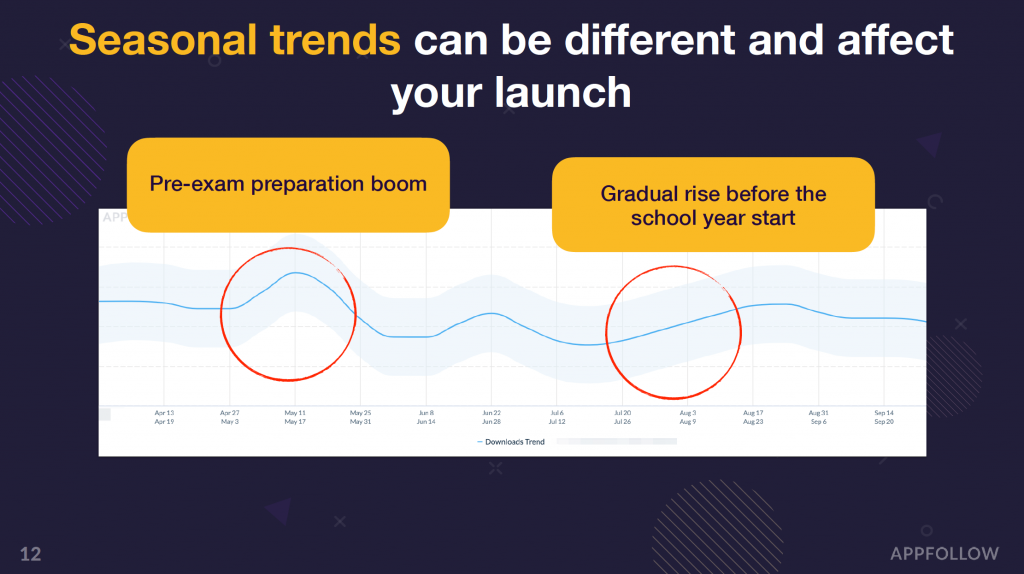 Getting Insights Yourself with AppFollow
For that specific reason, we have a tool in AppFollow called Compare apps, and you can compare several apps side-by-side if you have an idea of what your competitor scene is. Alternatively, our consulting team can discover the competitors you might be unaware of and bring them into the picture.
Let's do a test together. Say, you already know what your competitor apps are — you found them through a search with relevant keywords or by the app title that matches the topic of your app.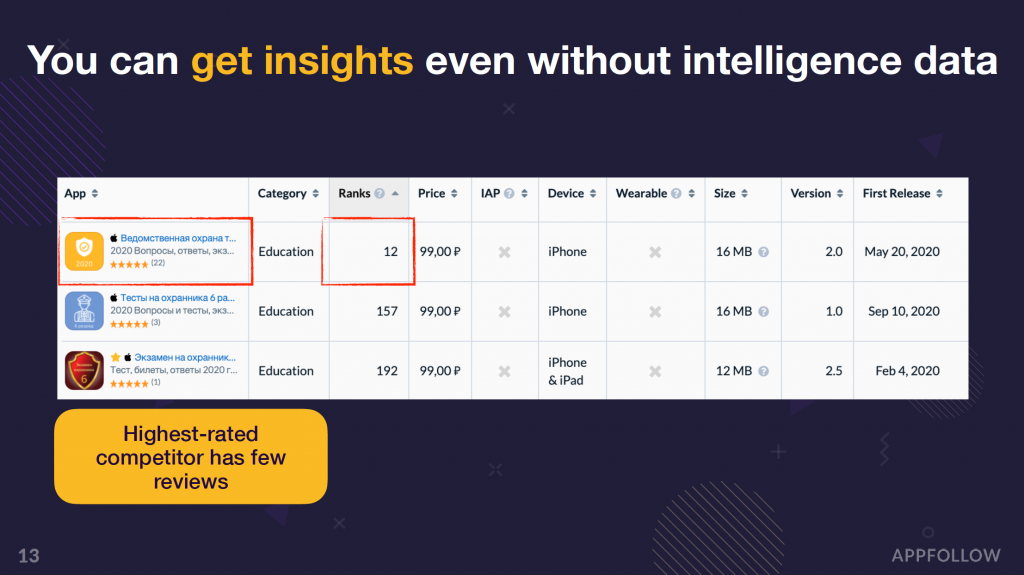 What we see in the picture here are the three main competitors we found for our test app. One of the competitors made it to the top 12 on the rankings in the Russian educational category, while having only 20 reviews — a really low number, which shows that it isn't a popular app yet.
By comparing these competitors, we can learn that all of them share a single monetization strategy. They don't have in-app purchases or subscriptions — these are single-purchase apps, costing around $1.
Another thing we learn here is that all of these apps are rather young — launched less than a year ago.
Here are two takeaways we can get from this analysis: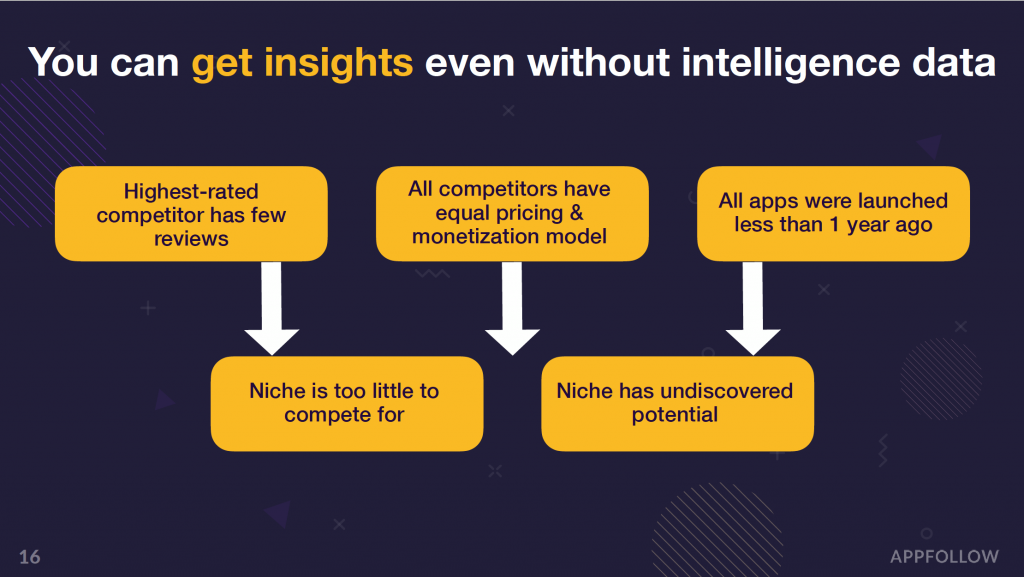 The niche is probably just too narrow to compete for
At the same time, the niche has undiscovered potential
In fact, that was a real case we've done. We've proposed a different monetization model to the client: to switch from a single purchase model to a free app with paid ads. Indeed, now our client's app is in the top rankings, even three months post-release.
Localization
Let's cover the localization part briefly, as my colleague tells a lot more about it in the webinar. Check it out if you want more details.
When approaching localization, it's important to do more than just translating the text to a target language. You should adapt the texts to the target market — that means learning the specifics and culture of the target country.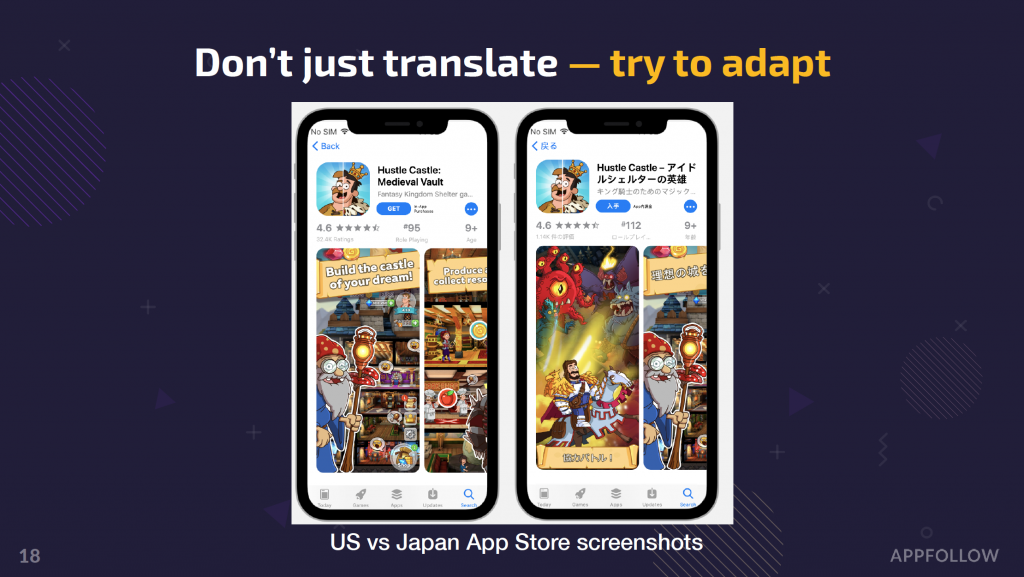 Here's an example of the Hustle Castle app. Notice how the creatives are translated and adapted visually — not just the subtitles and the app name. They know that it is important to learn the specifics of the market and cater to it in a consistent way.
Analytics & Metrics
Okay, now that you understand how to do market research and competitor research, it's time we learned to evaluate our progress and make data-driven decisions (data-driven, not data-dictated — big difference).
App usage analysis
The metrics can tell how well your app and your strategy performs. We can go with the original mobile app store consoles here, but you should be aware each one of them has a number of considerable flaws. For instance, App Store Connect has opt-in data which isn't good for ad analysis, and the Google Play console is far from being user-friendly. Just saying, AppFollow can negate almost all of these downsides.
Here are a few tips you can use to work with metrics better and analyze your app performance during the launch.
Look for dynamics in several key indicators: New Downloads and Updates, Promotional Downloads, Organic Downloads. These will help you learn and correlate the download rates with events outside of your control.
Keep in mind the store console flaws: the download metrics are delayed by a few days, the most important data is either unavailable or opt-in, and you are provided gross estimates.
Find a way to work with raw data exported from the consoles: if you've got the resources to process the raw data and build your own dashboards, it will be far superior to anything a store console can offer you at the moment.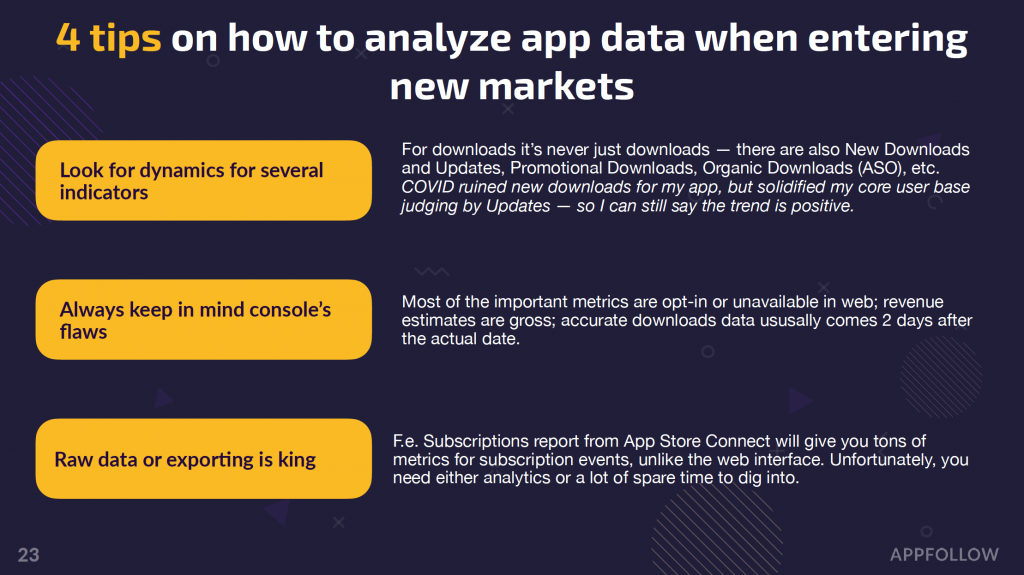 The last big tip deserves more than just a paragraph, for it is about choosing a north-star metric.
Choosing a North-star Metric
A classic eternal question: how do we measure success? Well, it really depends on what kind of success you're after. What is the quality of the user base? What is your country? What situation is the market in right now? There are so many factors to consider.
At the end of the day, it boils down to the Quality vs. Quantity situation.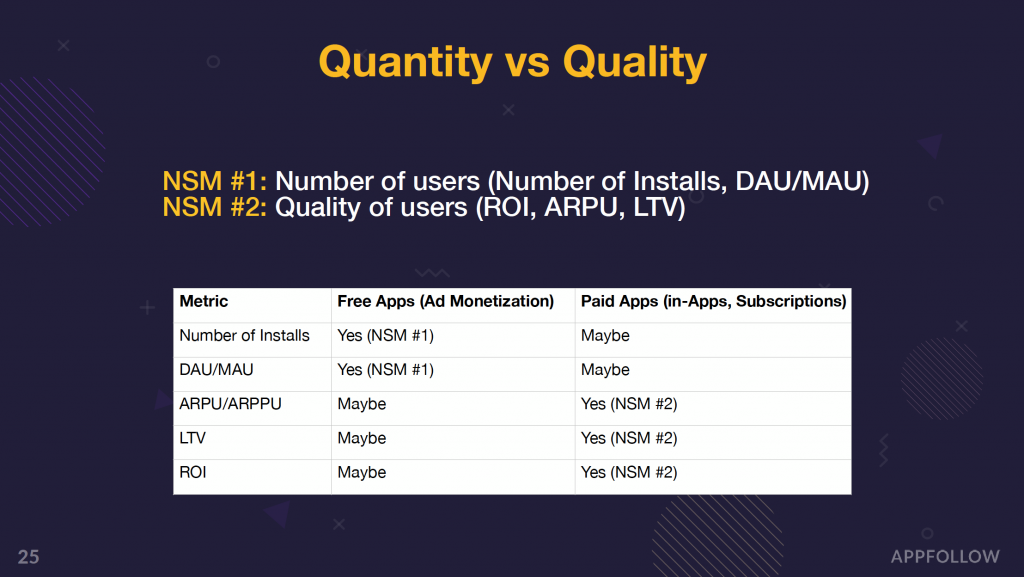 With quantity, you would need to go after the monthly active user base and the number of installs, while with the quality you need to keep an eye on conversion rate, the lifetime value metric, and base your strategy around that.
LTV as a north-star metric has its flaws since it will take you at least several months just to collect enough data to project the LTV and build a model around it. That might be challenging for a fresh app release in the new market.
We know of one other emerging metric that is highly important:
User Reviews as a Northstar Metric
We have learned that user reviews directly affect almost any other metric out there, and directly influence the likelihood of commercial success.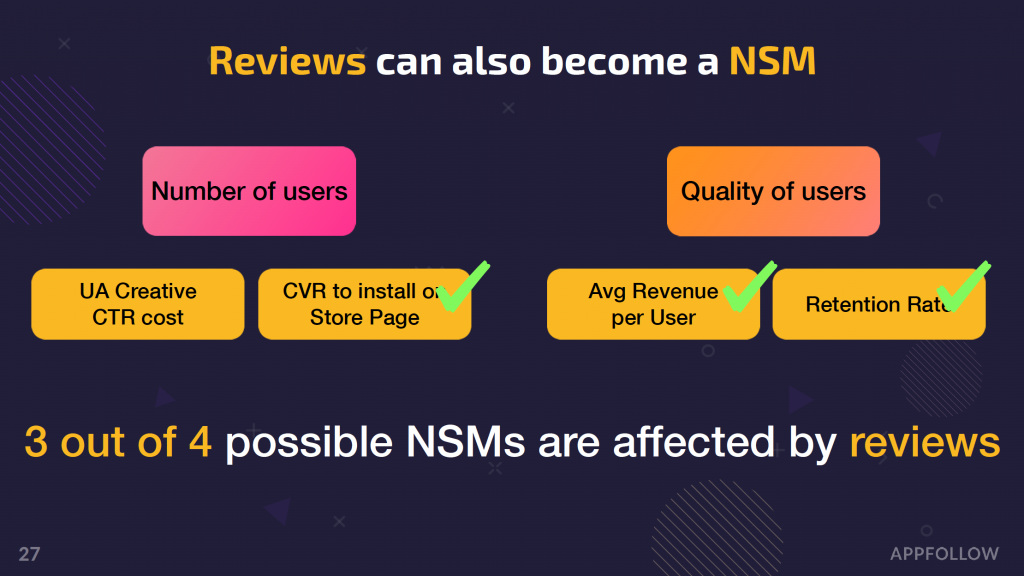 3 out of 4 possible NSMs are influenced by reviews. High app rating and positive reviews affect the conversion rate, store page to install rate, churn rate, and many others — just by taking time and effort to answer user reviews and address bug reports. You can even get insights into your monetization model if you're lucky since if that's a pain point for the user, you will probably hear about it. Loyalty and honesty to your user base is the best investment you can make long-term.
Another research that we did revealed curious statistics: according to which the apps with less than 4-star rating lose up half of their organic downloads. Around 80% of the App Store and 90% of Google Play downloads can be attributed to apps with a rating of 4 and higher.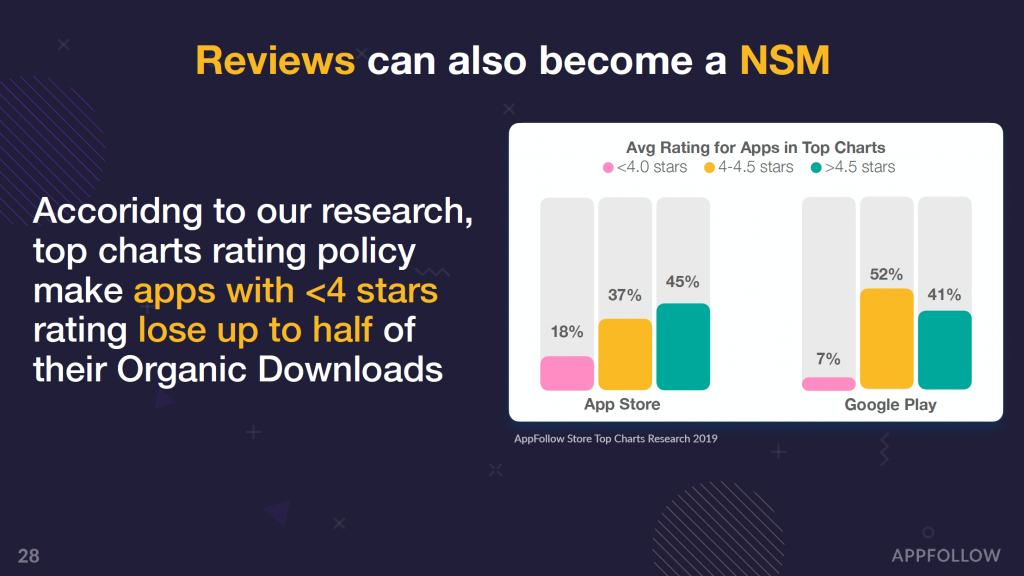 It's crucial for your app rating to reach a score higher than 4 and stay that way, especially during the launch. What you must hope to achieve with this is a snowball effect: high ratings on the start (and keeping them that way) will snowball into more downloads, while the opposite will…snowball downhill, pretty much.
Here are a couple of key points to keep in mind about the review management:
Reviews are great to gather insights: your user base is very likely to leave reviews that share information about the weak or strong sides of your app. The first reviews you will get are crucial to understanding any flaws your app or market strategy might have.
Replying to reviews decreases churn, and has the potential to increase app rating: the best insights come from 3 & 4-star ratings, as 1-3 might be blind hate and 5 being blind love. Look for balanced and thorough reviews. Updated reviews are also a good source of feedback and a sign of an active user that is interested in the fate of your product. We did a big article on which reviews are the most valuable, by the way.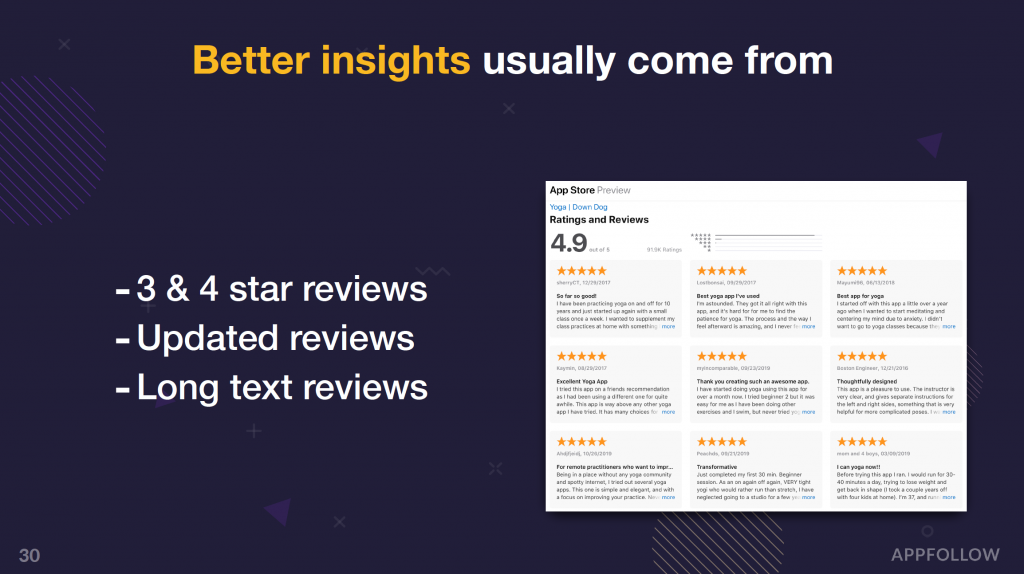 Replying to Reviews Use Case
We've got a really nice case (and not just one!) that really highlights the importance of a balanced user review management strategy.
Tinkoff, an online bank, and financial services provider in Russia, decided to take a more attentive approach to reviews and vowed to leave no user request unattended.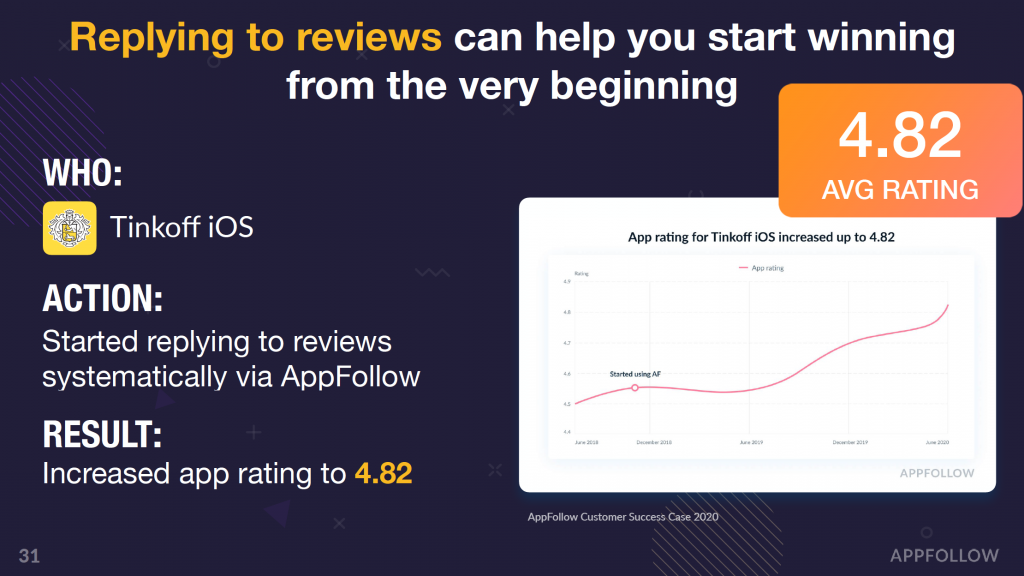 They began to systematically reply to reviews through AppFollow (we have a whole suite of tools for that) and managed to increase their app rating up to 4.8 within several months. Here's the link to the Tinkoff detailed case study in case you want to learn more.
Just to paint a picture: financial services is a cut-throat sector in Russia, with fierce competition. The ROI on an investment like that is simply too great to ignore, both for big players and beginners.
Conclusion
Here's a bullet list of things we have learned together so far:
Do your market research, choose the right tools for that
Be prepared for your target market, adapt (not just translate!) your app and app page to the target language
Analyze your competition, discover opportunities, take advantage of competitor's flaws
Pick a monetization model and stick your guns to it
Choose a correct north-star metric to gauge your progress, adjust your strategy accordingly
Never stop learning
And don't forget — no situation is completely alike. There's no shame in not know what is the next step. You can always contact us for strategic advice or consulting. Check out our Customers page for more case studies — perhaps one of them will be akin to yours?