5 Creative Skills for Jewelry Ads | Case Study
In 2020, affected by COVID-19, people seldom go out and pay little attention to dressing up. Therefore, sales of jewelry products are not ideal, and competition for jewelry ads will become more intense. SocialPeta has compiled the most representative 5 creative skills of jewelry ads for you, and summarized and analyzed their advertising creative skills for you: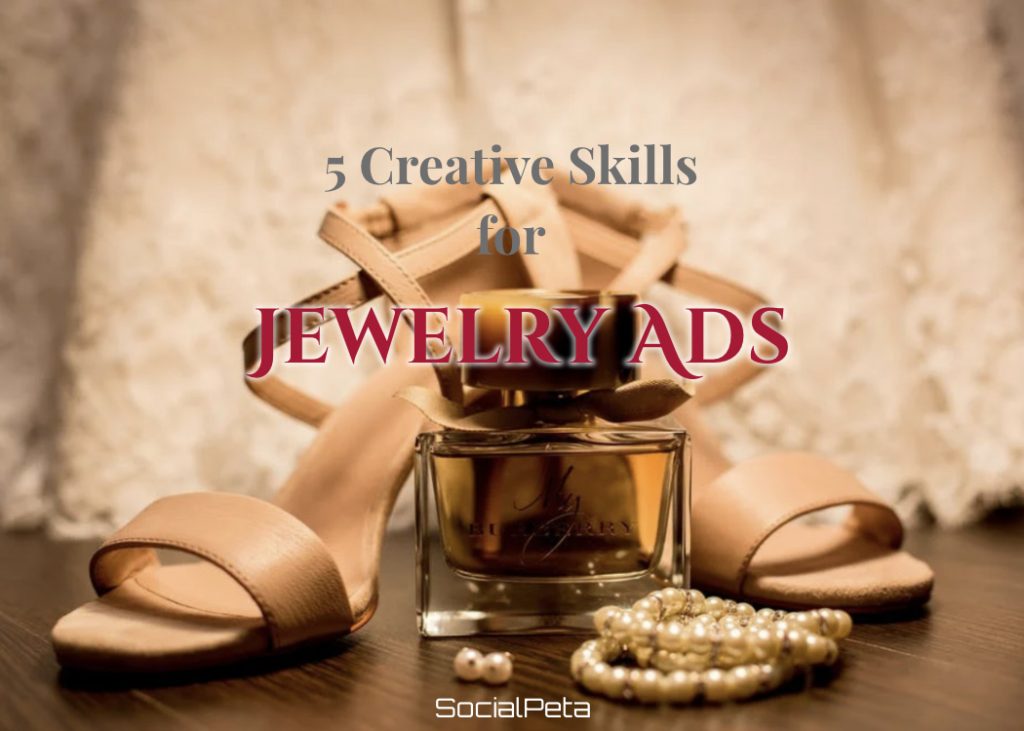 Ready to optimize the CTR of your jewelry ads and promote your products in the best way?
1. Set up carousel ads
Setting up carousel ads is also a common creative technique for jewelry ads. Putting pictures of the same series together to set up carousel ads is the most common form of product advertising, and it is also very suitable to apply it in jewelry ads.
This is an advertisement placed by 24 Jewelry on Facebook, and it is also displayed in the form of a carousel advertisement. It only took 4 days to get a 6M display and top popularity. Of course, in addition to the carousel ad format, there are also brand effects. But the picture layout in this jewelry ad is second to none in Facebook's heavy jewelry ads. Using simple white marble glasses and rose gold jewelry, the visual matching and expression is also very good, no wonder it has gained such high popularity.
2. Model display & detail shots
The most common expression method in jewelry ad creative is visual communication. After all, it is jewelry. Whether its products are beautiful and well-made are important factors that affect consumers' decision-making. Therefore, nearly 90% of jewelry ads will focus on product details.
Real is a Diamond IN is different. Its advertising creativity adds models to display in addition to details, using models to set off jewelry, and adding a detailed profile to portray the quality of the business. Compared with ordinary product detail pictures, such exquisite and dynamic videos, set off by beautiful female models, are easier to attract audiences to click and consume.
3. Picture synthesis beautiful video
In addition to carousel pictures, it is also a good choice to synthesize videos with some exquisite pictures. Video advertising is very effective in any category, especially Facebook. As we all know, the most popular social media platform for product ads is Facebook. In order to confirm the specific jewelry, I conducted a keyword search in SocialPeta. It can also be concluded from the histogram below that jewelry ads are also the most. The number of advertisements placed on Facebook has exceeded 1M in just 2 months.
Therefore, the video format selected by jewelry ads will generally have better results. In order to make the operation more simple and intuitive, we can also choose some exquisite pictures to synthesize the video like Ginza Rim in the figure below. This is the easiest way for jewelry ads to create video ads, and it can also highlight the details and texture of the product. Its visual performance and carousel ads are similar, but its video advertising performance is more Facebook-friendly.
4. Combine male power with accessories
As we all know, few men pay attention to jewelry ads, but this does not mean that jewelry will abandon the male market. Searching for the keyword "jewelry", we can see that the proportion of men's attention is 42.9%, which is not a small amount. Of course, most of the non-single men pay attention to buying gifts for their girlfriends.
But there is also some jewelry designed specifically for men, so there are many jewelry ads specifically for men. Many people can't help but wonder, how can jewelry ads designed for men be designed to capture the psychology of these users? What kind of creative advertising techniques can improve the CTR of jewelry ads for male audiences?
This Zancan Gioielli advertisement is very suitable as an example. It uses a male model with a muscular body. He exudes full masculine power. The model wears a necklace around his neck. There are some necklaces and rings in the middle of the model's boxing action screen. The men in this advertisement are all eager to see as if wearing these products can exude such a charming masculine charm, who can be unmoved?
5. Promotional copywriting drainage
Of course, in the first paragraph of the article, I mentioned that jewelry ads in 2020 will be greatly affected by COVID-19, and the sharp decline in sales will directly cause more businesses to spend more on jewelry ads. One of the most direct and quickest effects is promotion activities.
Therefore, a large number of jewelry ads incorporate the content of promotional activities in the ad copy ideas to attract users' attention and clicks. This is undoubtedly the most effective way. Adding keywords such as "SALE", "FREE", and "…% OFF" to the copy is the best technique to improve advertising effectiveness. It is also a good choice to cleverly apply emoji and exclamation points to ad copy.
This article has compiled 5 creative skills of jewelry ads for you. In 2020, which is severely affected by COVID-19, I hope that it will be helpful for you to put jewelry ads on. At the same time, SocialPeta also wishes the world can tide over this catastrophe as soon as possible!