The Best Adbeat Alternative Ad Intelligence Tool | SocialPeta
Advertisers often choose some advertising intelligence tools to obtain competitors' advertising information and advertising marketing strategies, so the choice of tools can be said to be the top priority. There are some well-known ad spy tools around the world, such as Adbeat. However, collecting comments from everyone finds that many people are also looking for other Adbeat alternatives. Today I will introduce you to the best Adbeat alternative-SocialPeta.
Adbeat
Adbeat is a world-renowned online marketing ad spy tool with a powerful ad collection system that allows you to discover any ads. Adbeat covers 26 countries and 90+ network creatives, dedicated to finding all the ads you need.
Adbeat main functions:
Find ads from any advertiser
Compare and analyze two different advertisers
Acquire and analyze the marketing strategy of competitors
Adbeat competitive analysis:
Data
Multi-platform and multi-network
Adbeat has the largest, most up-to-date repository of advertiser data
Desktop

Coverage across multiple ad formats including standard display ads, native, video ads, interstitials, and page takeovers.

Mobile

We offer an "all mobile" unified view as well as segmentation for 4 important devices: iPhone, iPad, Android, and Android tablet.

Native & Video

Broad coverage for native ad networks and pre-roll video ads provides complete coverage across the advertising landscape.
Insights
Instantly uncover new strategies.
Discover the most profitable publishers, ad copy, and landing pages
Competitive Monitoring

See competitors' ads, ad networks, publishers, and landing pages. Learn the strategy of the most successful advertisers in any market.

Sales Prospecting

Drive your sales process by adding to your qualified leads list. Identify advertisers and publishers who represent your ideal potential customers.

Client Services

Keep your clients informed. Provide them with insights & analysis that benchmark against direct competitors and across industries and sectors.
Reporting
Create and download custom reports, comparisons, and set alerts
Alerts

Schedule automated notifications and instantly know when advertisers launch new campaigns. Never miss things that matter to you.

Comparisons

Identify key differences in a competitive set using side-by-side and overlay visualizations. Compare ad cost, share of voice, and other key metrics.

Reports

Export and share reports. Complete data sets are available in multiple report formats including CSV, PDF, and presentation-ready PowerPoint decks.
Adbeat Pricing:
Standard – $249/month
Advanced – $399/month
Enterprise – Call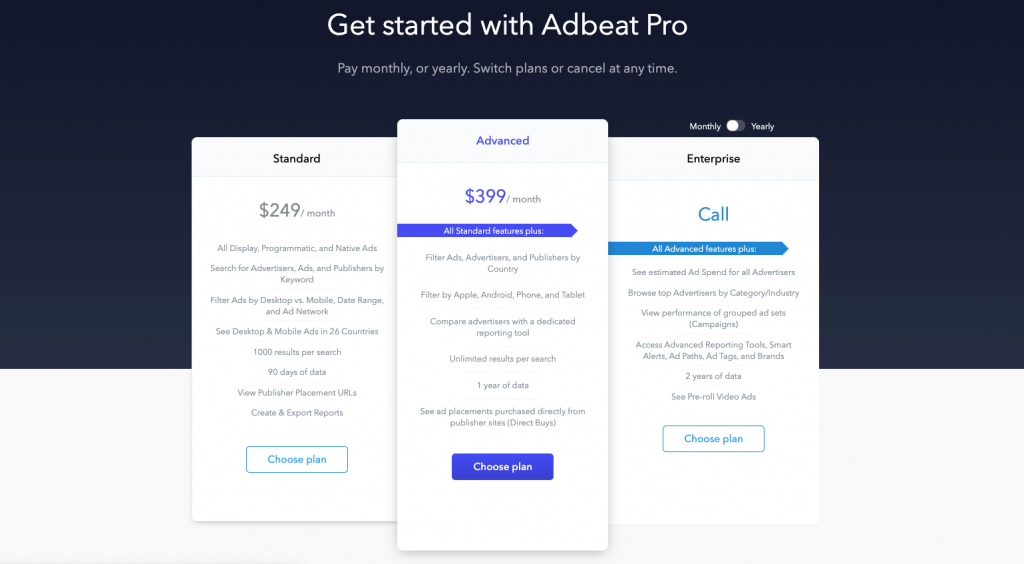 However, many people feel that this pricing is a bit too expensive for Adbeat's simple ad spy function, so most Adbeat users are looking for suitable alternatives.
SocialPeta is a world-leading ad intelligence tool with richer and more practical functions than Adbeat and can obtain more complete advertising information.
SocialPeta covers the advertising competition intelligence and e-commerce analysis functions of the games and App systems, which can meet the various needs of users. Massive database and powerful search feature with 73 ad networks. Intelligence with Ads, Market, Cost, App, Audience, eCom & Brand. Help you develop your business in all marketing decisions.
SocialPeta main function:
Ad intelligence
All creative materials covering 73 networks
View coverage channels and playable ads in 46 countries separately
Over 980M ad creatives and updated 120M everyday
Multiple filter search ad copy
Filter ad creative materials according to the number of ads, popularity, duration, etc.
With powerful cost analysis-CPC, CPM, CTR, CTA
Audience analysis with Facebook and Google
Combine audience analysis and comparative analysis to view cost intelligence in keyword audience regions
Multiple comparative analysis of advertising types covering channels
View the app's advertising space analysis report
Download any creative material
View the advertising marketing strategy and advertising intelligence of any advertiser
Subscribe to any advertiser's advertising information to monitor the other party's strategy in time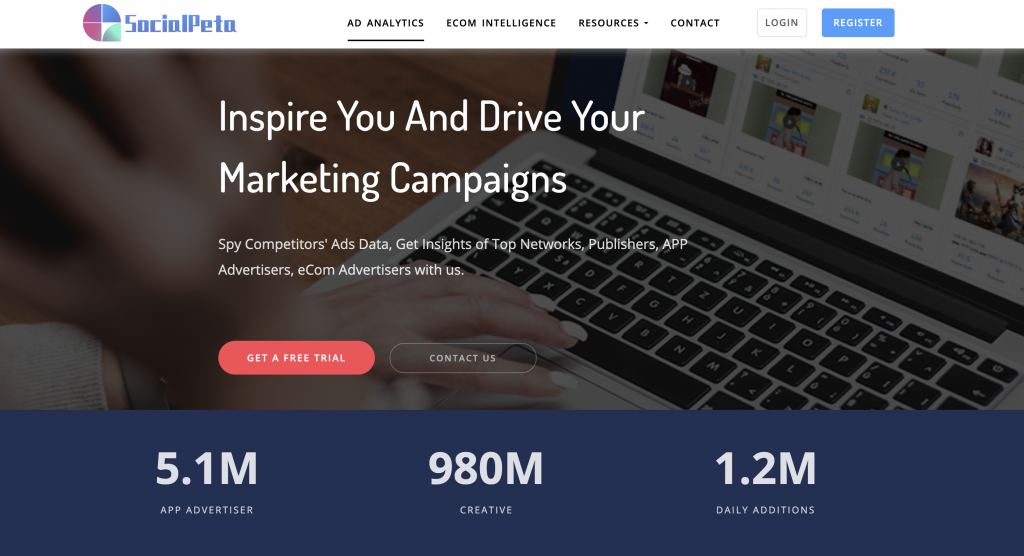 eCom intelligence
Finding AliExpress, Amazon and Shopify products analytics
There are 7,903 monitor categories
There are more than 20M products available for analysis and updated 10M+ daily
Find winning products with Millions of data
Keep your finger on the pulse to guarantee the profit
Discover the chance earlier than competitors
A one-stop tool save you more time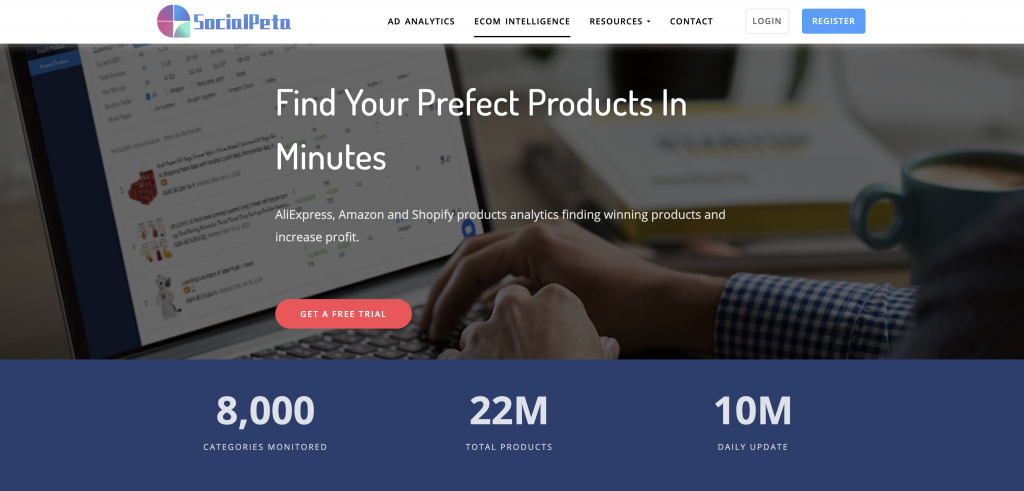 SocialPeta competitive analysis:
Ad competitive intelligence:
Get Inspiration from Ad Creative Spy

46 countries and 73 mainstream channels, 980M of creative materials
the latest materials are updated in real-time.

Insight Into the Ad Cost of Facebook

Audience Interests recommend with CPM, CPC, and KD.
Top Countries' Benchmark of CTR,CPM, CPC.
Find the secret of CPA like purchase, active, achievement, and so on.

Spy the Marketing Strategy of Your Competitors

TOP Advertisers
More than 5 million global advertiser data, material, text, network and other multi-dimensional analysis, grasp market dynamics.
Learn from your competitors
Follow popular advertising strategies to drive business growth and maximize revenue.
eCom competitive intelligence:
Boost Amazon revenue by 200%

Increase the product selection success rate by 50%. 15 million total products and 8 million daily updates.BSR in-depth analysis, up to 10 levels of major and sub-category analysis.
Exploring over 20,000 categories tracking competitor product information and providing detailed data analysis, monitoring product listing and hijack dynamics around the clock.

Increase the hit rate of winning products by 50%

Help you find more products with profits of over 300%. Over 70w stores monitoring, 200W Shopify product information monitoring.
Greatly save advertising cost caused by incorrect selection of products. More Niche products increase the success rate of product selection and obtain higher returns.

Discover more niche markets on AliExpress

8 million total products, 2 million daily updates, covering over 40 countries.
Insight into the market competition by monitoring purchase countries and sales countries.
More than 15 order analysis metrics, scientifically monitoring orders Growth trend.
SocialPeta pricing:
SocialPeta pricing is not mentioned. You need to contact the person in charge to get the quotation. However, according to its internal staff, the contact email may have unexpected surprises.